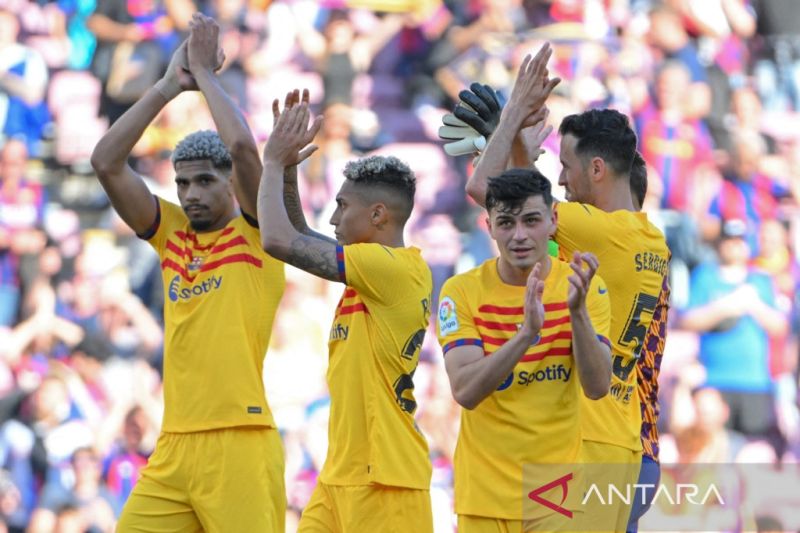 Jakarta (Rifyu.com) – Barcelona consolidated themselves at the top of the standings after beating Atletico Madrid with a score of 1-0 in Week 30 of the Spanish League at Camp Nou Stadium, Barcelona, ​​Sunday local time.
In this match Barcelona's victory came thanks to a single goal scored by Ferran Torres towards the end of the first half, according to Spanish League records.
Barcelona is in first place in the Spanish League standings with 76 points from 30 matches, 11 points different from Real Madrid in second place.
On the other hand, Atletico Madrid is still stuck in 3rd place in the Spanish League standings with 60 points from 30 matches.
Barcelona dominated the game by controlling 63 percent of ball possession and releasing 13 kicks, four of which were on target.
In the first half Atletico Madrid had the first chance through Antoine Griezmann's shot which still hit the Barcelona bar.
Griezmann again posed a threat to Barcelona's goal when he was able to shoot inside the penalty box, but the ball was pushed over by goalkeeper Marc-Andre ter Stegen.
After being under pressure, Barcelona was able to get up and score first in the 44th minute through a goal scored by Ferran Torres using a pass from Raphinha.
Raphinha, who pushed into the right side of the Atletico Madrid defense, was able to send the ball to Torres who was able to release a hard kick into Jan Oblak's goal so that the score changed to 1-0. The score lasted until the first half ended.
In the second half, Barcelona immediately took the initiative to attack and had a chance to threaten through a shot from Robert Lewandowski which Oblak was still able to push over.
Atletico Madrid turned to threaten through a kick released by Yannick Carrasco, but the ball was still sideways from the Barcelona goal.
Barcelona again had the chance to double their advantage, but Gavi's shot still missed the target.
Xavi Hernandez's squad had a golden opportunity to double the lead when Lewandowski was left to face Oblak, but his shot was still wide of the net. Score 1-0 for the victory of the host persists.
Furthermore, Barcelona will face Rayo Vallecano in Week 31 of the Spanish League, Thursday (27/4), while Atletico Madrid will host Mallorca, on the same day.
Preacher: Aldi Sultan
Editor: Guido Merung
COPYRIGHT © BETWEEN 2023
source: www.antaranews.com