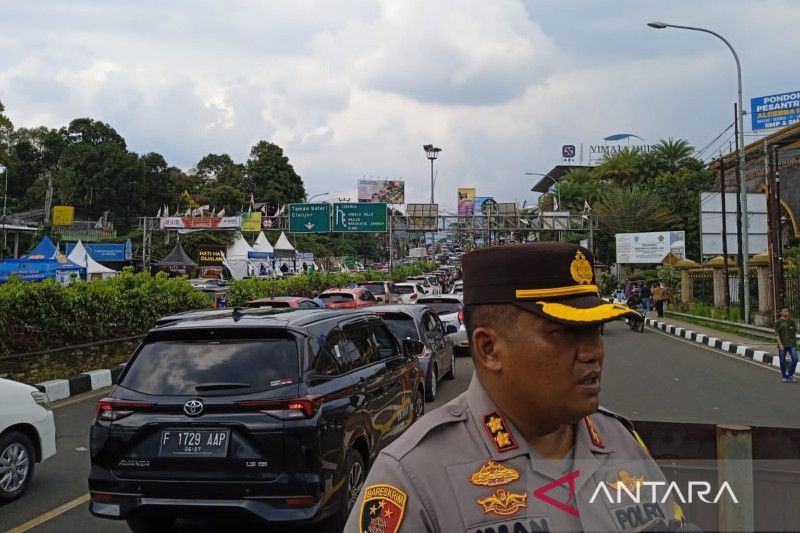 Bogor Regency (Rifyu.com) – The Bogor Resort Police noted that as many as 430,066 vehicles entered the Puncak area, Bogor Regency, West Java, during the momentum of the 1444 Hijri Eid holiday.
KBO Satlantas Polres Bogor, Iptu Ardian Novianto in Bogor, Tuesday, explained that the number was the accumulation of passing vehicles from Tuesday (18/4) to Monday (24/4).
"430,066 vehicles consist of 166,995 two-wheeled vehicles, 259,244 four-wheeled vehicles and 3,827 buses," said Ardian.
The volume of vehicles on the Puncak Route increased dramatically after the H-day of Idul Fitri. Most occurred on Monday (24/4) which reached 83,313 vehicles. While the least was before Eid, to be precise on Wednesday (19/4), 48,593 vehicles.
Meanwhile, Bogor Regent Acting (Plt) Iwan Setiawan reminded tourists from Puncak, Bogor Regency, West Java, not to focus on crossing the main route, so there would be no traffic jams.
"Utilizing alternative routes, I have assigned the PUPR Service to maintain alternative roads, some of which are safe to pass," said Iwan.
This is because there are two alternative routes to get to the Puncak Area, without having to cross the Gadog Ciawi Intersection. First, passing through the Sumarecon Toll Gate and crossing Mount Geulis to Pasir Angin, Megamendung.
The second alternative route is via Tapos Ciawi then along Jalan Citeko to Taman Safari Indonesia (TSI) Cisarua.
"Hopefully (the vehicle) won't get stuck, sophisticated equipment from the Police has also been prepared," he said.
Iwan said, if there is still congestion during the Eid holiday on the Puncak Route, the Police will apply traffic engineering in the form of an odd-even vehicle system to a one-way system.
"The South Bogor area has more extra security on D+1 to D+10, because the occupancy rate or vehicle visits have increased," he said.
Iwan said that until now the number of vehicles entering the Puncak area was relatively small. (KR-MFS)
Reporter: M Fikri Setiawan
Editor: Adi Blueardi
COPYRIGHT © BETWEEN 2023
source: www.antaranews.com