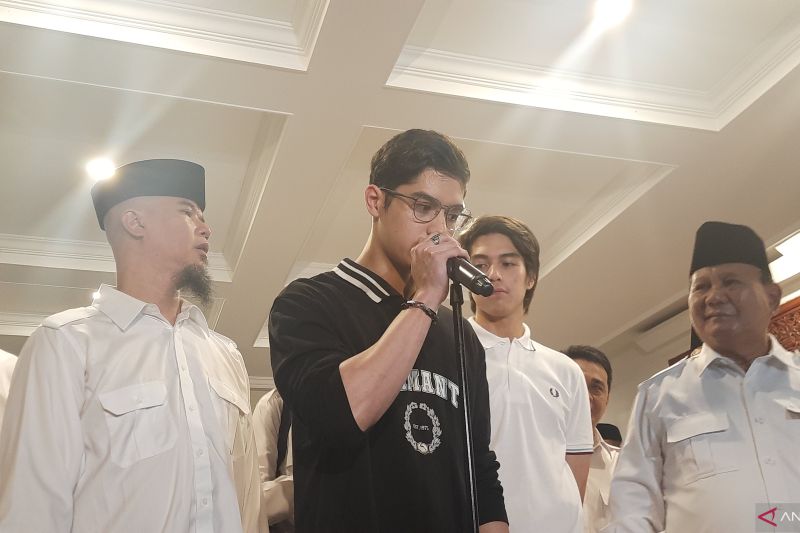 "And seeing as Pak Prabowo's character is the most sincere figure to the people,"
Jakarta (Rifyu.com) –
The son of Deputy Secretary General (Wasekjen) Gerindra Ahmad Dhani, Al Ghazali Kohler supports Gerindra General Chair Prabowo Subianto as a presidential candidate (capres) in the 2024 Presidential Election (Pilpres).
"Young people, I honestly vote for Pak Prabowo," said Al at Kertanegara IV, Jakarta, Thursday night.
Al admits that he has idolized Prabowo since the 2014 political year. He also saw Prabowo's enthusiasm as a burning fire.
"I see that Pak Prabowo is a figure who really has a burning fire and that is what young people really need," he said.
This spirit, continued Al, is what the younger generation needs. Not only that, he revealed that Prabowo was a figure who most sincerely served the Indonesian people.
"And seeing as Pak Prabowo's character is the most sincere figure to the people," he said.
Meanwhile, Prabowo believes that by joining Al Ghazali Kohler and El Jallaludin Rumi in Gerindra, his party will get the help of young people who are ready to fight.
"Today we got the help of millennial young people who are ready to fight with us, Al and El. Brothers, please come forward. They are all of our future," said Prabowo.
He considers Al and El to be their future.
"We, Gerindra, are the party of young people and we are determined that Gerindra should become the party of the future," he added.
For this reason, his party will strive to prepare and educate young cadres to replace them in the future. He is also sure that the number of young people joining Gerindra will continue to grow.
"By preparing young cadres in the coming weeks there will be many young people who will join us. So we are only here to prepare the way for these young ones," said Prabowo.
Reporter: Narda Margaretha Sinambela
Editor: Agus Setiawan
COPYRIGHT © BETWEEN 2023
source: www.antaranews.com