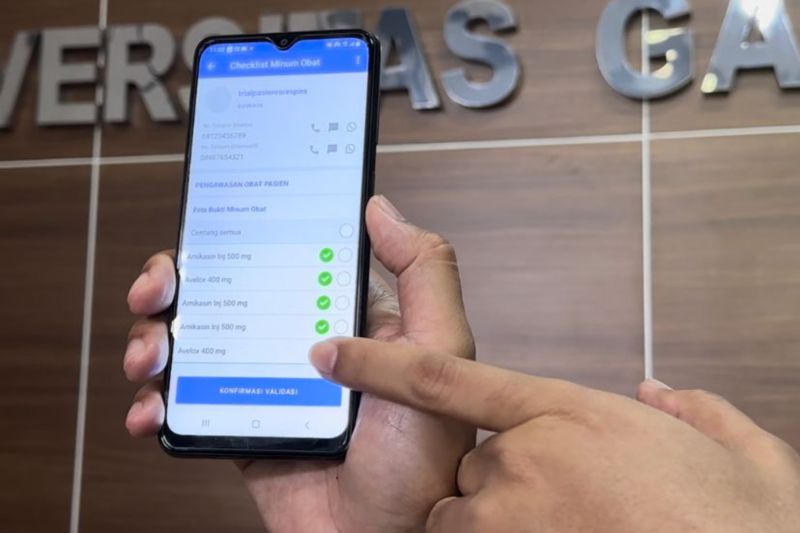 Yogyakarta (Rifyu.com) – The Center for Tropical Medicine (PKT) of Gadjah Mada University (UGM) has developed a mobile application to support the treatment of drug-resistant tuberculosis patients.
Director of the Center for Tropical Medicine UGM, Dr. Riris Andono Ahmad, through an official statement from UGM in Yogyakarta, Thursday, said the application, which is named "TOMO" or "Tuberculosis Monitoring", functions to facilitate supervisory communication in taking patient medication.
"This innovation in the form of TOMO supports the successful treatment of drug-resistant tuberculosis," said Riris.
Also read: Patient commitment must be strong, TB treatment takes 6-9 months
He explained that TOMO is an integrated mobile application developed to improve the quality and effectiveness of drug-resistant tuberculosis (RO TB) services.
Through this application, he said, it is hoped that it will be able to bridge the continuity of tuberculosis clinical management services.
In addition, TOMO can be a medium to accelerate the handling of side effects experienced by RO TB patients.
Also read: Pulogadung Health Center opens a special polyclinic for TB patients
Riris hopes that the convenience offered by the application can reduce the possibility of patients stopping treatment so as to reduce the possibility of wider drug resistance.
"TOMO has great potential to help TB RO patients in completing their treatment because it is designed according to the needs of patients and drug swallowing supervisors (PMO)," he said.
Also read: Proper nutrition is needed by tuberculosis patients
According to him, the application was developed because tuberculosis is still a health problem in Indonesia.
The WHO report states that Indonesia is one of the countries with the highest TB burden in the world.
Meanwhile, TB treatment is not easy because it requires a process of six months of treatment. In addition, the side effects of the drugs caused many patients to give up in the middle of the treatment process and develop drug-resistant TB.
Also read: Samples of suspected tuberculosis patients sent to the Ministry of Health's laboratory
Treating RO TB is becoming increasingly difficult because it can take nine to 11 months for the standard short term, even 18 to 24 months for the long term.
The patient's long commitment to taking three to seven medicines per day for a long time, he said, then prompted the existence of a drug swallowing supervisor (PMO).
Riris said, there were two TOMO applications being developed, namely TOMO for patients and their families and TOMO CM for health workers.
The features in the two applications have differences according to their respective roles.
Read also: Patient suspected of having tuberculosis leading to COVID-19 isolated in Gorontalo
The TOMO application for patients focuses on sending information about having taken medication, an automatic reminder feature for taking medication, a feature for conveying complaints, and is equipped with educational information for patients.
Meanwhile, TOMO CM, he said, functions to facilitate the task of the case manager and the puskesmas to respond to patient complaints, arrange patient visit schedules, and validate patient medication information every day.
In addition, said Riris, the application makes it easier for clinical experts to observe patient complaints in real time, see the patient's routine control schedule, and provide a summary of information on taking medication and patient complaints.
Reporter: Luqman Hakim
Editor: stump Susilo
COPYRIGHT © BETWEEN 2023
source: www.antaranews.com