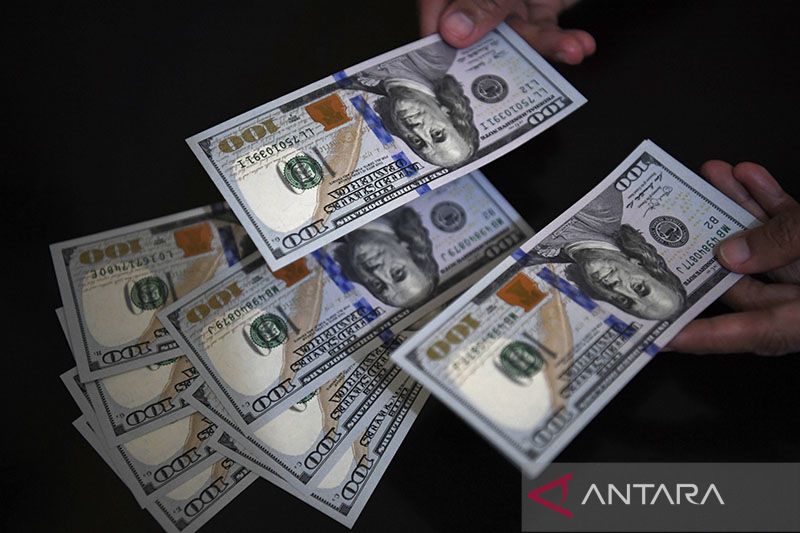 The US dollar edged down after trimming early losses and sterling fell in late trading Tuesday (Wednesday morning WIB).
New York (Rifyu.com) – The US dollar edged down after trimming early losses and sterling fell in late trading Tuesday (Wednesday morning WIB), as traders expect banking pressure to keep the Federal Reserve and Bank of England from raising interest rates further. away this week.
Investor focus has shifted to a number of central bank meetings scheduled for this week, after days of volatility in markets caused by concerns over the stability of the global banking sector.
The dollar index, which measures greenbacks against six other major currencies, it was down 0.058 percent to 103.270, while sterling traded 0.59 percent lower to $1.2204.
Markets are pricing in an 85 percent chance of a 25 basis point rate hike when the Fed announces its monetary policy decision on Wednesday.
Peak interest rates overnight The Fed was forecast at 5.5 percent just a few weeks ago, compared to around 4.8 percent now.
The dollar has followed those expectations lower, although the general nervousness in financial markets has dampened the selling.
Sentiment was fragile as investors worried over the prospects for the banking sector after shares of US lender First Republic plunged nearly 50 percent Monday, on fears it would need a second rescue.
"(The Fed) will signal that inflation is still in focus here, but clearly take a good look at what's been done, and highlight what they can do to further prevent further contagion beyond the First Republic," said Edward Moya, senior market analyst at OANDA.
US Treasury Secretary Janet Yellen told bankers on Tuesday (21/3) that she is ready to intervene to protect depositors at smaller US banks who may experience massive withdrawals if they pose a contagion risk.
"It appears that after a weekend of pushing for policy support and certain (MoF) officials declaring that they will do whatever it takes to guarantee deposits, what I think is that the upside can continue," said Mazen Issa, senior FX analyst at TD Securities in New York. .
Sterling moved slightly lower, remaining near a nearly seven-week high against the dollar, after data showed Britain posted a 16.68 billion pound ($20.4 billion) budget deficit in February, well above expectations in a Reuters poll.
On Tuesday, minutes from the Australian Central Bank's March 7 policy meeting showed officials had agreed to consider the case for a rate hike at its April meeting, even before the recent bout of volatility weighed on the Australian dollar, which was down 0.88 percent. versus greenbacks at 0.666 US dollars.
"In places like Canada or Australia, where the central banks are basically saying they are done with the rate tightening phase, the currency is lagging against currencies where gains are still on the curve," Issa said.
The euro was last up 0.39 percent to $1.0761.
On cryptocurrency markets, bitcoin was last up 0.32 percent to $28,168.00 after hitting a nine-month high the previous day. The world's biggest cryptocurrency rose 26 percent last week, its best weekly gain since April 2019.

Also read: The US dollar slipped as banking turmoil ensnared the market
Read also: Yen and dollar fall as central banks try to reassure markets
Translator: Apep Suhendar
Editor: Budisantoso Budiman
COPYRIGHT © BETWEEN 2023
source: www.antaranews.com