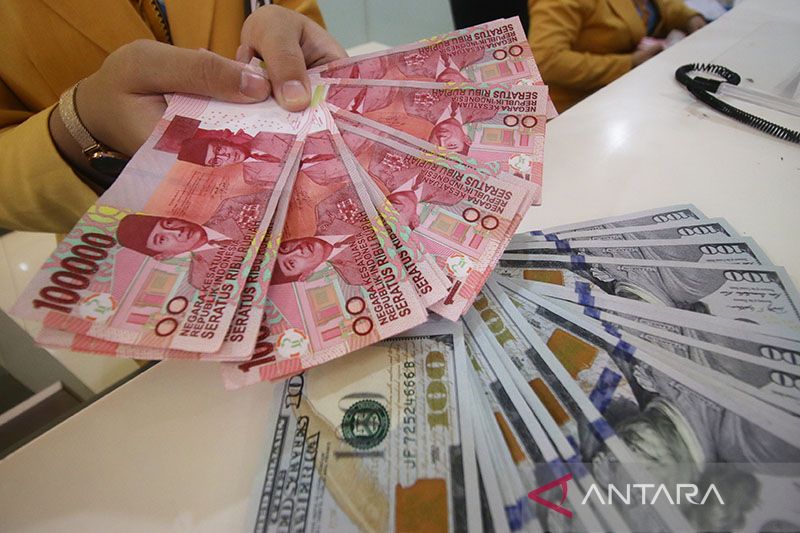 The increase in US bond yields will restrain further rupiah appreciation.
Jakarta (Rifyu.com) – The rupiah exchange rate traded between banks in Jakarta this weekend increased amid rising United States (US) bond yields.
On Friday, the rupiah closed up 44 points or 0.29 percent to the position of IDR 15,345 per US dollar compared to the position at the previous closing of IDR 15,389 per US dollar.
"The increase in US bond yields will restrain further appreciation of the rupiah," said DCFX Futures analyst Lukman Leong when contacted by Rifyu.com in Jakarta, Friday.
Also read: Rupiah rises as Indonesia's economic growth is maintained
Lukman said the two-year US bond yield was at 4.218 percent and the 10-year tenor was at 3.581 percent.
He estimates that the rupiah has limited rebound potential. Market sentiment turned positive after there was hope that troubled global banks would find support.
The US government will guarantee Silicon Valley Bank (SVB) customers, while Credit Suisse Bank in Switzerland gets liquidity from the Swiss central bank or Swiss National Bank (SNB).
The Swiss National Bank pledged Wednesday (15/3/2023) to fund Credit Suisse with liquidity "if necessary", a first for a global bank since the financial crisis more than a decade ago.
Credit Suisse said on Thursday it would borrow up to $54 billion from the Swiss central bank to shore up liquidity and investor confidence after a slump in its shares raised concerns about the global financial crisis.
Read also: Dollar falls in early Asian session, bank rescue lifts risk appetite
US monetary authorities launched emergency measures on Sunday (12/3/2023) to shore up confidence in the banking system after the failure of the Silicon Valley Bank (SVB) threatened to trigger a wider financial crisis.
The regulator said defaulting bank customers will have access to all of their deposits from Monday and is setting up a new facility to give banks access to emergency funds. The US Central Bank or Federal Reserve also makes it easier for banks to borrow from it in an emergency.
While the measures provided some relief for corporate Silicon Valley Bank and global markets on Monday, concerns about broader banking risks remained and cast doubts on whether the Fed will stick with its plans for aggressive rate hikes.
In the morning, the rupiah opened down to Rp. 15,391 per US dollar. Throughout the day the rupiah moved in the range of Rp. 15,345 per US dollar to Rp. 15,391 per US dollar.
Meanwhile, Bank Indonesia's Jakarta Interbank Spot Dollar Rate (JISDOR) on Friday strengthened to Rp. 15,364 per US dollar compared to the previous position of Rp. 15,418 per US dollar.
Reporter: Martha Herlinawati Simanjuntak
Editor: Nusarina Yuliastuti
COPYRIGHT © BETWEEN 2023
source: www.antaranews.com