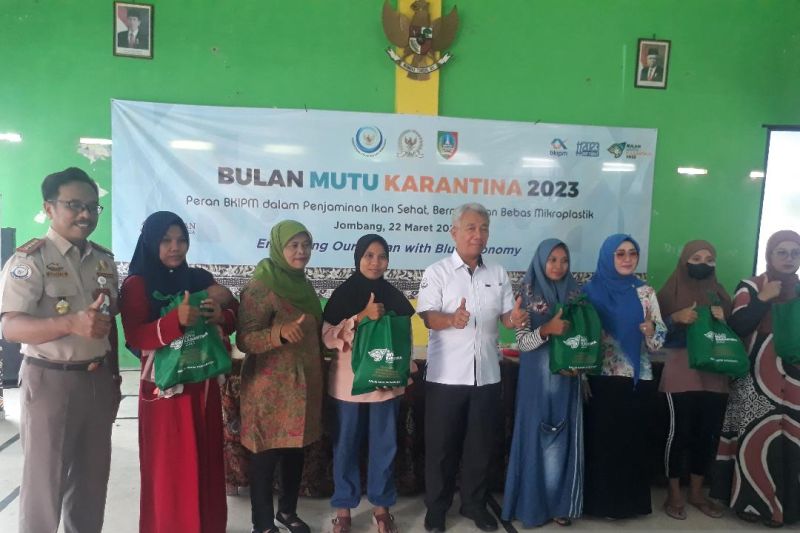 healthy fish does not contain microplastic elements
Jombang (Rifyu.com) – The Fish Quarantine Agency, Quality Control and Safety of Fishery Products (KIPM) is aware of the presence of microplastics in fish, because it is dangerous for human consumption.
Head of the Quality Control Center for the Jakarta KIPM Agency, Widodo Sumiyanto, said that his party is anticipating world issues related to the environment which is heavily polluted by plastic waste. The waste automatically ends up in the sea, where the waste can be eaten by fish, so fish that were previously safe for consumption become polluted.
"If it ends in the sea, there is the potential for it to be consumed by fish and it will be digested. Fish whose meat was previously safe for consumption then contain microplastics. This is dangerous for human health," he said at the 2023 Quarantine Quality Month (BMK) event in Diwek Village/District, District Jombang, Wednesday.
He added that his party in the 2023 Quarantine Quality Month (BMK) activities deliberately took the theme "The Role of BKIPM in assuring the quality of healthy, quality and microplastic-free fish".
The issue of microplastics has now become a global issue. Many seas are polluted by plastic waste, including in Indonesia.
Also read: KKP introduces healthy and quality fish in Temanggung
Also read: Director General of KKP: Fish without frying is healthier
He explained, Indonesia is one of the number five countries in the world in terms of pollution in the sea so it is a concern of the government, to ensure that fish from Indonesian waters is fit for consumption.
His party conducted research on the extent of the pollution and which sea. Later, the data obtained will be used as evaluation material to ascertain whether the fish caught are feasible or not.
"Once we have the data, of course we will announce those that are not fit for consumption. It is best if fish have high protein, good for intelligence, health growth, but if they already contain microplastics, of course they are not good for consumption," he said.
He also added, indeed supervise export import. However, until now there has been no requirement regarding being free of microplastics.
However, his party is still anticipating that fish in Indonesia should not contain microplastics.
"BKIPM will continue to carry out its duties, one of which is to provide optimal service in providing quality assurance and safety of fishery products and improving the traceability system (traceability) on fishery products from upstream to downstream," he said.
Also read: Training on healthy-quality fish is held by the Palembang Fish Quarantine Station
Also read: Thousands of IPB alumni campaign "Let's Eat Fish"
Member of Commission IV DPR RI Ema Umiyyatul Chusnah who attended the event said education and outreach related to the importance of consuming healthy fish is very important.
"With the quality quarantine month, we educate the public. There is no sea in Jombang, but socialization is important to educate the public about the importance of consuming healthy fish. Healthy fish does not contain microplastic elements," said Ning Ema, her nickname.
Quarantine quality month is an education and outreach service in ensuring health, biosafety and food safety of fishery products followed by the provision, distribution and delivery of consumption fish to target beneficiary communities in designated locations, one of which is the community of Village/Diwek Subdistrict, Diwek Regency. Jombang.
In total, 500 packages of healthy and quality fish education packages were distributed containing fish and its processed products, namely gourami, fish brains, milkfish brains, crispy anchovies, and sardines.
In this program, the Fish Quarantine Agency, Quality Control and Safety of Fishery Products are indeed working with Commission IV of the DPR RI.
Also present at the event were Head of BKIPM Surabaya 1 Suprayogi, Head of the Jombang District Food Security and Fisheries Service, Nurkamalia and other invited guests.
Also read: Fish and rivers in South Kalimantan contain microplastics
Preacher: Asmaul Chusna
Editor: Budhi Santoso
COPYRIGHT © BETWEEN 2023
source: www.antaranews.com