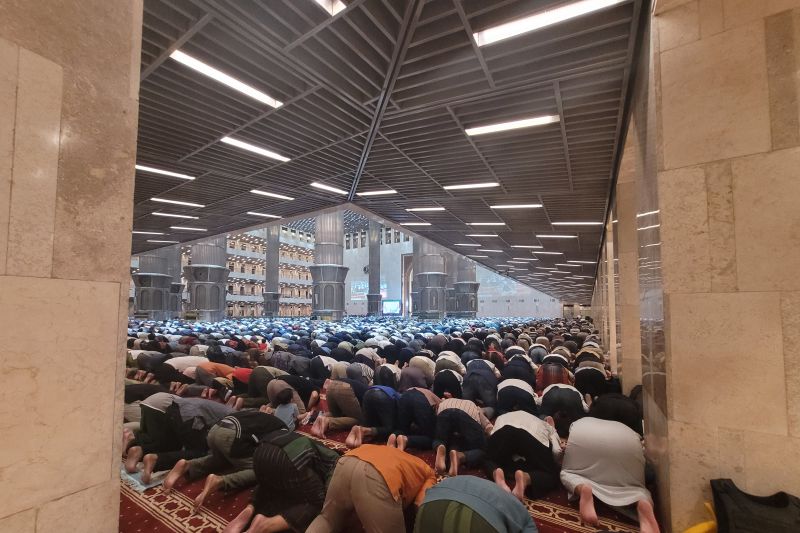 Jakarta (Rifyu.com) –
Pilgrims from various areas in Jakarta and a number of other areas thronged the Istiqlal Mosque during the first Tarawih Prayers of the fasting month of Ramadan 1444 Hijriah.
"I have prayed here before. Actually, it's the same as praying anywhere, but I happened to be playing here, so I prayed here," said Ardian (45), a resident from Bengkulu who was met at the Istiqlal Mosque, Jakarta, Wednesday.
Not only Bengkulu residents, residents from other areas also attended the first Tarawih Prayer at the Istiqlal Mosque. Like Arrijal, a resident from Bandung who attended the Tarawih Prayer for the first time at the mosque located in Central Jakarta.
At the first Tarawih prayer, the congregation filled the prayer room up to the second floor of the mosque. The government has determined that 1 Ramadhan 1444 Hijri will fall on Thursday, 23 March 2023.
Previously, the Grand Imam of the Istiqlal Mosque, Nasaruddin Umar, stated in a press conference that his party was ready to hold the first Tarawih prayer service.
"The Istiqlal Mosque is ready to accommodate as before the COVID-19 pandemic, we don't limit it," said Nasaruddin.
Nasaruddin said that the Istiqlal Mosque has a capacity of 250 thousand worshipers, but for the time being only 150 thousand can be used while looking at the future situation and conditions.
"The capacity of the mosque is 250,000. This year we will try to open 150,000, we will not use the remaining 100,000 in the hall, but if conditions allow, we will use it even up to the fifth floor," he explained.
In addition, a number of security preparations and facilities have also been prepared by the Istiqlal Mosque in holding Tarawih Prayers.
"We set up a gate Al-Fattah for the male congregation as well Al-Qudduus for the female congregation. Gate As-Salaam We also open the partitions, so the congregation doesn't have to rotate," said the chairman of the Ramadhan 1444 H committee at the Istiqlal Mosque, Bukhori.
The first Tarawih prayer service of Ramadan 1444 H at the Istiqlal Mosque was led by the Imam
Al-Hafidz
Mudzakkir and Khotib Nasaruddin Umar took place solemnly and smoothly.
In addition to Tarawih Prayers, the Istiqlal Mosque Ramadhan Committee held more than 20 programs of worship activities during Ramadan 1444 Hijri, starting from breaking the fast together to iktikaf. Other activities such as Morning Lectures, Zuhur Dialogues, as well as Al-Qur'an Reading Training including opening zakat payment counters were also present to enliven this holy month for Muslims.
Also read: The Istiqlal Mosque holds iftar together until the iktikaf of Ramadan
Also read: Istiqlal Mosque holds Tarawih Ramadan 1444 H without restrictions
source: ramadhan.antaranews.com