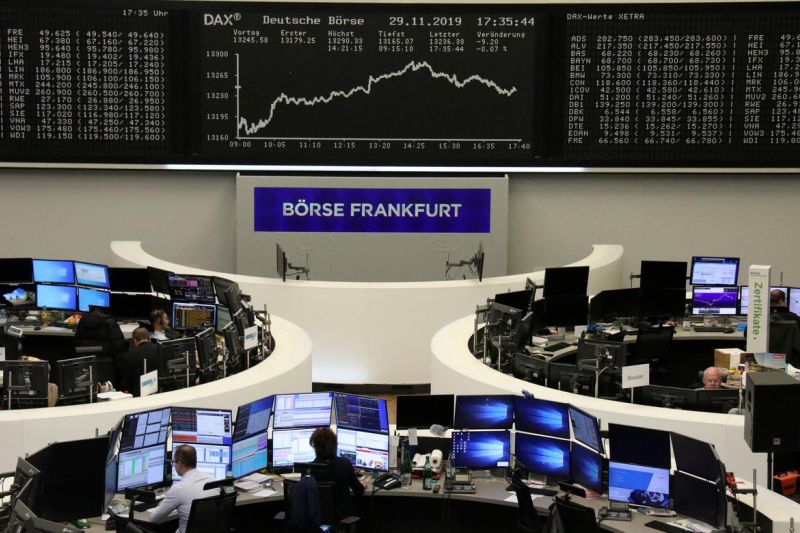 Frankfurt (Rifyu.com) – German stocks ended in positive territory on Monday trading local time (20/3/2023), reversing direction from last weekend's losses, with the benchmark DAX 40 index on the Frankfurt Stock Exchange adding 1.12 percent or 165.18 points to settle at 14,933.38 points.
The DAX 40 index slumped 1.33 percent or 198.90 points to 14,768.20 points on Friday (17/3/2023), after lifting 1.57 percent or 231.84 points to 14,967.10 points on Thursday (16/3 /2023), and fell 3.27 percent or 497.57 points to 14,735.26 points on Wednesday (15/3/2023).
Of the 40 selected large company stocks that are components of the DAX 40 index, 29 stocks managed to record profits, while 11 other stocks suffered losses.
As of September 20, 2021, the Frankfurt Stock Exchange has officially expanded the components of the DAX 30 index to 40 shares or to become the DAX 40 index.
Also read: German stocks turned lower, the DAX 40 index slumped 1.33 percent
Munich Re Group or Munich Reinsurance Company, a German multinational insurance company and one of the world's leading reinsurance companies increased 3.90 percent, becoming the biggest profit maker (top gainer) of leading stocks or blue chips.
Followed by shares of renewable energy companies offering power generation and transmission, technical consulting and operations Siemens Energy AG rose 3.63 percent; as well as the third-largest German reinsurance group in the world, with Hannover Re SE gaining 3.50 percent.
On the other hand, Qiagen NV, a German provider of sample and test technology for molecular diagnostics, applied testing, academic research and pharmaceuticals recorded the biggest losses. (top loser) among the top stocks, its share price slipped 1.75 percent.
Also read: German stocks ended positive, the DAX 40 index rose 1.57 percent
Followed by shares of the German auto industry company that produces passenger vehicles, sports cars, SUVs and other motor vehicles Porsche AG fell 1.66 percent; and companies that offer kidney dialysis services, manufacture and distribute dialysis patient care equipment Fresenius Medical Care AG fell 1.62 percent.
Translator: Apep Suhendar
Editor: Adi Blueardi
COPYRIGHT © BETWEEN 2023
source: www.antaranews.com