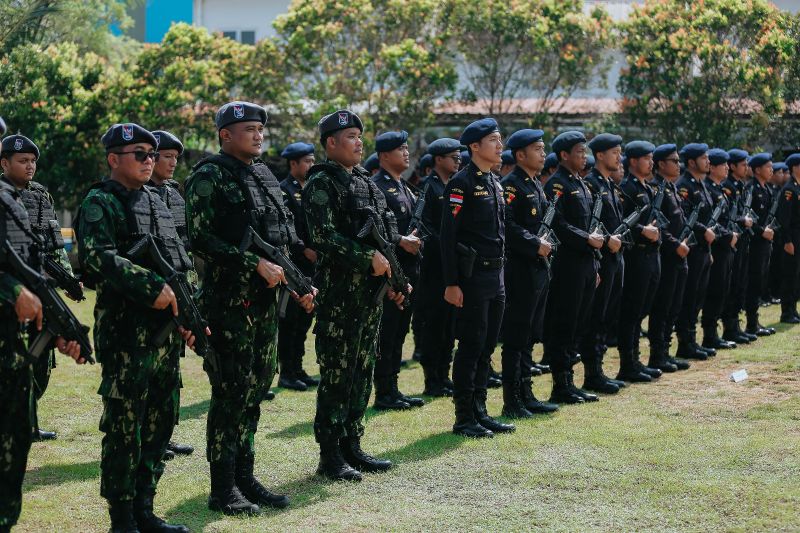 Jakarta (Rifyu.com) – Customs and Excise is carrying out its supervisory function in protecting Indonesia's maritime borders from the threat of entry and exit of illegal and dangerous goods, Customs and Excise is again holding the Sriwijaya Net and Wallacea Net Integrated Marine Patrols in 2023. Collaborating with ministries/agencies (K/L) ) related, this integrated marine patrol has officially started on Tuesday, March 21, 2023.
The Sriwijaya Net and Wallacea Integrated Sea Patrol Operation will involve Customs work units throughout Indonesia, both in the western and eastern regions. Held every year, this time the integrated operation was held as a follow-up to the instructions of the President of the Republic of Indonesia regarding the smuggling of bale pressed which disrupted the domestic textile industry and became a carrier of disease.
"However, supervision will still be carried out on all goods that violate provisions in the field of customs and excise," said Nirwala Dwi Heryanto, Director of Communication and Guidance for Service Users, Customs and Excise.
Nirwala added that the opening of the Customs Integrated Sea Patrol Operation in 2023 was concentrated at the Tanjung Priok Customs Operations Facility Base (PSO). During this activity, the Customs and Excise sea patrol honor certificate was also attached to the Head of the National Narcotics Agency (BNN) and his staff as support and collaboration in eradicating narcotics smuggling by sea.
Observing its implementation in 2022, the Customs and Excise Integrated Sea Patrol is considered quite effective because it is capable of carrying out 28 actions against import and export violations with an estimated value of goods of IDR 258,475,072,800 and potential state losses of IDR 246,980,279,390. Various commodities have been successfully prosecuted, such as beverages containing ethyl alcohol (MMEA), fuel oil (BBM), baby lobsters (BL), cigarettes, psychotropic narcotics and precursors (NPP), sawn timber and saplings, cash, textiles, ball pressed , as well as mixed goods.
"Recently, what has been phenomenal is the success of the Customs and BNN sea patrol operations in thwarting the smuggling of 319,230 grams (309 packs) of methamphetamine (methamphetamine) narcotics from the Iranian network in the South Indian Ocean waters of Banten. This success was due to planning and a mature strategy by mitigating all possible risks. It is important that there is trust that exists between Customs and other Ministries/Agencies," said Nirwala.
In addition, in optimizing the implementation of supervision over Indonesian waters, Customs and Excise has collaborated with related ministries/agencies, such as Bakamla and TNI AL in the Yudhistira Patrol, KPLP, Polairud, and PSDKP in the Pandawa Synergy Operation, and BNN in the Full Sea Operation.
"Customs needs the support of the community in the successful implementation of integrated sea patrols in 2023. For this reason, let's protect Indonesian territorial waters together, act on prohibited and dangerous goods," concluded Nirwala.
Reporter: PR Wire
Editor: PRWire
COPYRIGHT © BETWEEN 2023
source: www.antaranews.com