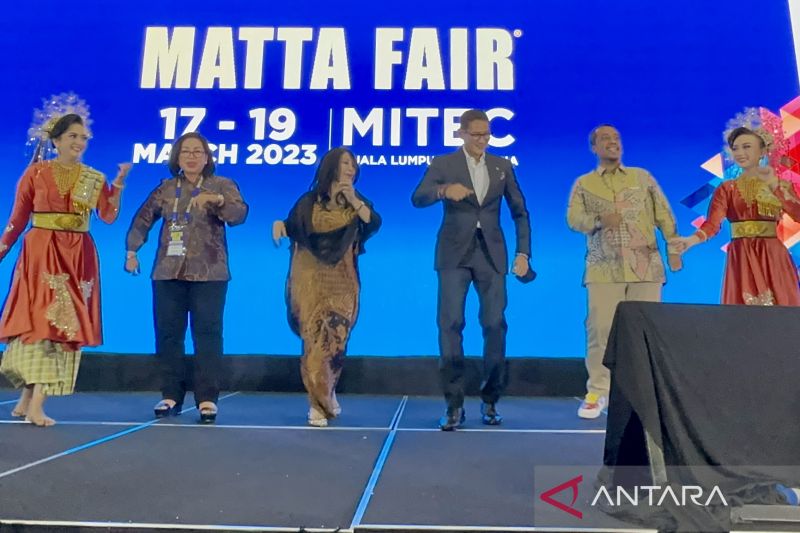 Kuala Lumpur (Rifyu.com) – The Ministry of Tourism and Creative Economy focuses on marketing Labuan Bajo as a tourist destination star at the 2023 Malaysian Association of Tour and Travel Agents Exhibition (MATTA Fair) in Kuala Lumpur.
"Upon President Joko Widodo's direction, before leaving (to Kuala Lumpur), he gave directions to appoint Labuhan Bajo as the focus of our promotion," said the Minister of Tourism and Creative Economy (Menparekraf) Sandiaga Uno after opening the Indonesian Pavilion at the 2023 MATTA Fair in Kuala Lumpur, Friday.
Because Labuan Bajo will host the ASEAN Summit and its infrastructure has been well built. Because of that, according to him, it needs to be promoted in totality, because it is one of the five super priority tourist destinations.
The Ministry of Tourism and Creative Economy (Kemenparekraf) is targeting one million foreign and domestic tourists to visit Labuan Bajo in 2023, said Sandiaga.
He briefly mentioned several icons that can be found when tourists visit Labuan Bajo in East Nusa Tenggara (NTT) Province, such as the Komodo endemic animal, the pink Pink Beach and the Rangko cave.
With new enthusiasm in the tourism sector after the COVID-19 pandemic, he said the Visit Wonderful Indonesia 2023 Team is exploring new tourist destinations that are ready to be offered.
"Mr. Ambassador, I, together with all colleagues from the Ministry of Tourism and Creative Economy, will present Labuhan Bajo as the forefront of our five super priority destinations. Labuan Bajo will host the ASEAN Summit. And by order of President Jokowi, Labuan Bajo is the star of this Matta Fair," he said.
He hopes that all this can bring about a revival of Indonesian tourism and also restore foreign tourist visits so that they can reach the target of 7.4 million people in 2023.
Sandiaga also said that at the largest tour and tourism exhibition in Southeast Asia, his ministry targeted at least 3,000 tourists from Malaysia to visit Indonesia.
"I want to speed up this recovery, and the target is that in 2024 this sector will recover and create 4.4 million new jobs," said Sandiaga.
Meanwhile, the Indonesian Ambassador to Malaysia Hermono said Malaysian tourists are always happy to visit Indonesia.
"We will encourage those who usually go to Bandung to Labuan Bajo. God willing, the target before COVID-19 will be exceeded, namely 2.7 million tourists from Malaysia," he said.
Also read: The ASEAN Summit is targeted to trigger visits of 1.1 million foreign tourists to Labuan Bajo
Also read: Regent: Jalan Bajo-Golo Mori has an economic impact on local residents
Also read: The President of the Republic of Indonesia inaugurates Jalan Bajo-Golo Mori in Labuan Bajo
Reporter: Virna P Setyorini
Editor: Aziz Kurmala
COPYRIGHT © BETWEEN 2023
source: www.antaranews.com