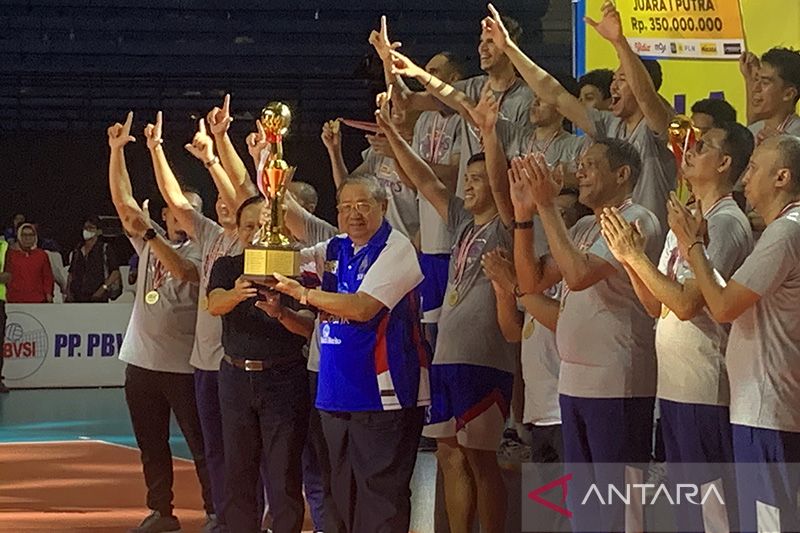 Yogyakarta (Rifyu.com) – Defending champion Jakarta men's team LavAni Allo Bank successfully defended their title after defeating Jakarta Bhayangkara Presisi with a score of 3-2 (25-22, 22-25, 24-26, 25-21, 15-9) in the final match PLN Mobile Proliga 2023 at Amongrogo Sports Hall, Yogyakarta, Sunday night.
LavAni equaled the achievements of Jakarta BNI and Surabaya Samator as the men's team that won the Proliga twice in a row. Jakarta BNI posted in the 2005 and 2006 seasons, Samator in the 2018 and 2019 seasons.
Compared to winning the Proliga last season, the title that Dio Zulkifli and his friends won this year was more spectacular because they only suffered one defeat throughout the season.
The only team that managed to defeat LavAni was Jakarta Bhayangkara Presisi, the team that was his opponent in the top match. The defeat occurred in the first round of the regular round and at the same time brought Bhayangkara Presisi to be the best.
However, after that, from the second round to the grand final, LavAni's dominance was never stopped by his opponents until he successfully defended the title.
Bhayangkara Presisi carries the mission of overcoming LavAni's ambition to win the championship by making more optimal preparations for the final match. The experience of winning in the previous round became Nizar Julfikar and his friends in serving LavAni. This has been proven by Bhayangkara Precision.
After being pressured and losing the first set, Reidel Alfonso Gonzales Toiran's team came back to play more solidly in the second set and won 25-22 to level the playing field.
Bhayangkara's game was still aggressive in the third set. Daudi Okelo, Rendy Tamamilang, Gareth Muagututia, Yudha Mardiansyah, and Hernanda Zulfi worked together to press and defend.
They finally managed to turn things around when they won the second set with a tight score of 26-24. However, the advantage was not entirely smooth when entering the fourth set because LavAni had risen.
With more solid play and teamwork, as well as reducing mistakes, the defending champion again dictated Bhayangkara's game and won 25-21.
Appearance on fire LavAni continued into the decider as they led 10-5, then 12-7, and closed out the match with a 15-9 victory.
"This is not an easy victory and we are very grateful to be able to win again," said Jakarta Assistant Coach LavAni Allo Bank Samsul Jais after the trophy and prize award ceremony.
Meanwhile, Jakarta player LavAni Fahri Septian also stated that he was very happy and grateful to be able to help his team win the Proliga title this season.
"This victory is due to the hard work of all the players and coaches, as well as the support of the LavAni club management, especially Mr. Susilo Bambang Yudhoyono," said Fahri who won the best player award.
Also read: STIN BIN takes third place in Proliga 2023 after defeating Samator
Also read: Mediyoku won the title of best female player in the 2023 Proliga
Also read: Alim Suseno reveals the key to Bandung bjb's success in winning the 2023 Proliga
Also read: Defending champion Bandung bjb wins the 2023 Proliga title
Reporter: Didik Kusbiantoro
Editor: Dadan Ramdani
COPYRIGHT © BETWEEN 2023
source: www.antaranews.com