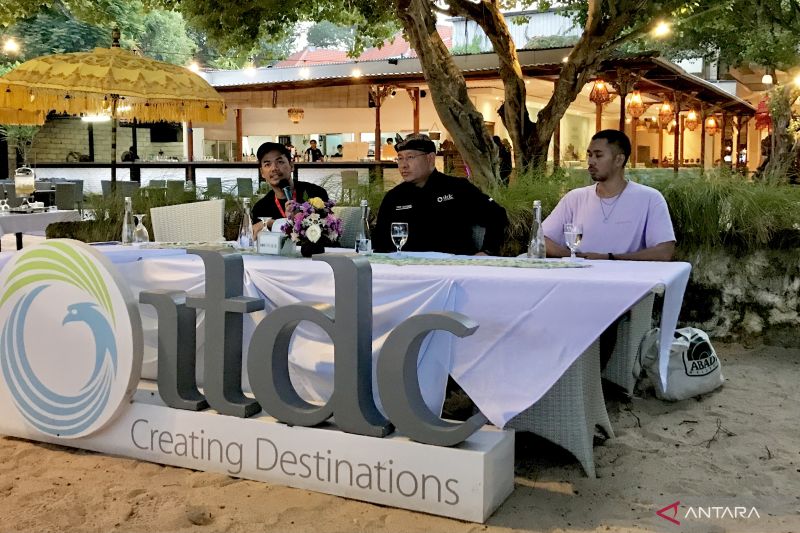 Badung (Rifyu.com) – The 2023 Joyland Festival at The Nusa Dua, Bali, continues the tradition of being different elements "melting into one" as a harmonious cultural commonality (melting pot) which brings together various communities, not only music lovers, but also film, comedy, and other creative activities.
This is because the Joyland Festival Bali from 17 March 2023 to 19 March 2023 will again provide a stage for comics. stand up comedya room to watch various selected films, and a place to follow various workshops handicrafts ranging from painting, knitting, coloring, to tarot reading.
"Hopefully, this Joyland becomes melting pots for communities interested in film, music and comedy, there is one event that brings them all together," said Co-Founder of Plainsong Live Ferry Dermawan, who is the promoter of the Joyland Festival, during a press conference in The Nusa Dua area, Badung, Bali, Thursday (16/3).
He continued to explain that Plainsong Live, as the promoter of the Joyland Festival, is deliberately returning to present a variety of activities other than music because it is an alternative attraction for visitors, especially those who bring their families and children to the festival arena.
For this year's event, the Joyland Festival Bali was held for the first time on Peninsula Island, The Nusa Dua. The concert stages on Thursday appeared to have stood majestically facing the Indian Ocean.
Ferry explained that Peninsula Island in The Nusa Dua was chosen as the location for the festival after his team checked and considered 4-5 other places. He said the view directly facing the Indian Ocean, and the beautiful landscape on the island was one of the factors for the Joyland Festival Bali 2023 being held on Peninsula Island, The Nusa Dua.
"The main consideration is definitely the supporting infrastructure such as access to the location, what parking is like, the flow of spectators in and out, and we can explore its beauty," said Ferry Dermawan.
The landscape on Peninsula Island is also one of the ways Plainsong Live attracts performers, especially the world's top bands, to appear on the Joyland Festival stage.
"At that time, we made documentation (about Peninsula Island as the event location, ed.), and we attached it as our proposal, especially to international performers. We want to show that this place is really beautiful," said Ferry.
Peninsula Island, Ferry added, is in line with the concept of the Joyland Festival which is always held in beautiful places.
"Choose requirements venues Joyland is a must green scenerythere must be grass and all kinds of things," he said.
Beyond that, Plainsong Live chose Peninsula Island because of its area of ​​five hectares and its capacity can accommodate up to approximately 10,000 people.
"This year, we really need a bigger venue (compared to previous years' events, ed.) and that's why we chose Peninsula," said Ferry.
The Joyland Festival Bali 2023 which starts at 15.00 WITA, Friday, consists of three music stages, namely the main stage, the Joyland Stage, then the Plainsong Live Stage, and the Lily Pad. In addition, there is also a stage stand up comedy Shroom Gardens, whose comics are curated by Soleh Solihun, the area for watching films curated by Ifa Isfansyah at Cinerillaz, and the workshops White Peacocks.
At White Peacock, visitors can take part in a face painting activity (face painting), braiding hair (hair braiding), painting on water bottles, hats, and canvases, knitting, and tarot reading.
Meanwhile, for line-up which become highlights Joyland Festival Bali 2023, including the French pop rock band Phoenix, then rappers and British singer MIA, and Norwegian musician Sigrid.
Ferry said there were dozens of foreign musicians and more than 50 domestic musicians who would perform on the stage at the Joyland Festival Bali 2023.
Herald: Genta Tenri Mawangi
Editor: Maswandi
COPYRIGHT © BETWEEN 2023
source: www.antaranews.com