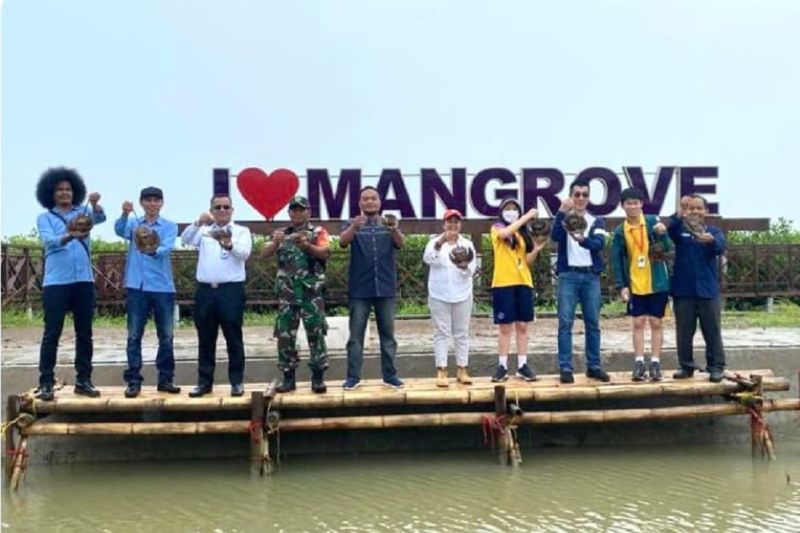 This collaborative mangrove restoration program is our effort to continue to support sustainable development
Tangerang (Rifyu.com) – PT Indah Kiat Pulp & Paper Tbk (IKPP) Tangerang together with Sinarmas World Academy students and the Indonesian Journalists Association (PWI) planted mangroves at Ketapang-Urban Aquaculture in Mauk, Tangerang Regency in a mangrove restoration program through eco-education and eco- tourism.
"This mangrove restoration collaboration program is our effort to continue to support sustainable development through environmental activities that can have a positive impact on the environment and surrounding communities," said Head of Sustainability of PT IKPP Tangerang, Kholisul Fatikhin in Tangerang Friday in his statement.
Through this activity, we also invite more elements of society, not only to plant, but also to increase environmental awareness by coming to the planting location.
Kholisul added that this activity was also in the context of supporting the government's efforts to rehabilitate mangroves in order to reduce carbon emissions through the Folu Net Sink 2030. "In addition to rehabilitating marine habitats, mangroves also have great potential in carbon absorption," said Kholisul.
He added, PT IKPP Tangerang has been a pioneer in planting mangroves at the Ketapang-Urban Aquaculture location with a total of 175 thousand seedlings planted at that location since 2018. With the mangrove restoration program, it is hoped that it will provide sustainable benefits for the community and the surrounding environment.
Mangrove tree planting is very important to maintain the balance of coastal ecosystems and as a natural fortress in protecting the coast from erosion due to high sea waves.
In addition, mangroves also function as a habitat for fish, crabs and other animals, as well as an important biological resource for the surrounding community.
As a form of support for environmental preservation, the mangrove planting event was also accompanied by the release of mimi crabs which play an important role in protecting the mangrove ecosystem.
Apart from planting mangroves, health service activities were also carried out by Eka Hospital for local residents. Hundreds of residents carried out mini medical check-ups to check blood sugar and blood pressure as well as provide thousands of vitamins for local residents.
The Secretary of the Sub-District Head of Mauk Saepul Anwar welcomed the support from PT IKPP Tangerang and all parties involved in this mangrove planting event. "This is a small step that can have a big impact on the surrounding environment," he said.
One of the Sinarmas World Academy students, Qiara said she was happy to be able to participate in the event because she gained knowledge about the environment. "I can also make my small contribution to protecting the environment through planting this mangrove," he said.
Ahmad Eko N, Chairman of the South Tangerang PWI appreciated PT IKPP Tangerang's efforts in this mangrove restoration program. "We hope that events like this can continue to be carried out and have a positive impact on the community and the surrounding environment," he said.
Also read: BRIN uses microbes to increase the success of mangrove restoration
Also read: Managing mangroves for the economic independence of coastal residents
Reporter: Achmad Irfan
Editor: Desi Purnamawati
COPYRIGHT © BETWEEN 2023
source: www.antaranews.com