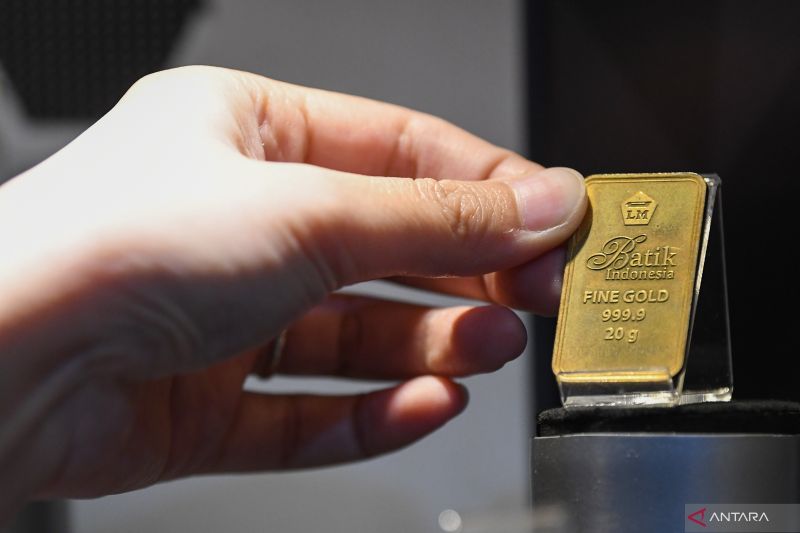 Chicago (Rifyu.com) – Gold prices rallied in late trading Monday (Tuesday morning WIB), after breaking the psychological level of 2,000 US dollars and extending gains for the second straight session as concerns over the contagion of the global banking sector crisis persist.
The most active gold contract for April delivery on the Comex division of the New York Exchange, lifted US$9.30, or 0.47 percent, to close at US$1,982.80 an ounce, after trading a session high of US$2,014.90 and its lowest at 1,970.00 US dollars.
Gold futures jumped USD 50.50 or 2.63 percent to USD 1973.50 on Friday (17/3/2023), after falling USD 8.30 or 0.43 percent to USD 1923.00 on Thursday ( 16/3/2023), and hoisted US$20.40 or 1.07 percent to US$1,931.30 on Wednesday (15/3/2023).
Gold briefly broke above $2,000 as UBS' takeover of Credit Suisse fueled fears of more banking sector crashes, boosting demand safe haven which is huge for gold.
Gold prices have been moving rapidly since the US banking crisis erupted just over a week ago with the takeover of two medium-sized lenders, Silicon Valley Bank and Signature Bank, by the Federal Deposit Insurance Corp as depositors withdrew billions of dollars from them after fearing about their solvency.
Silicon Valley then filed for bankruptcy protection. A third bank, First Republic Bank is also in trouble despite receiving a $30 billion cash injection from a consortium of US banks.
The banking crisis has spread to Europe, with Credit Suisse Group, one of the leading names in global investment banking, having to seek help from the Swiss central bank.
Some investors rush to the assets safe haven eased on Monday (20/3/2023) after Swiss investment bank UBS said it would buy liquidity-strapped partner Credit Suisse and JPMorgan appeared to be making headway in saving First Republic.
"Gold is maintaining momentum bullishalthough it was down 45 US dollars from its highs intraday $2,010 as prices showed calculated resilience from a low of $1,965," said Sunil Kumar Dixit, chief technical strategist at SKCharting.com.
Investors are now waiting for the results of the Federal Open Market Committee (FOMC) meeting on Wednesday (22/3/2023).
Test bullish The next gold may come on Wednesday (22/3/2023) and it may not be from the Fed rate decision, but what Powell and colleagues have to say about the path of rate hikes going forward, said Craig Erlam, analyst at online trading platform OANDA.
The falling US dollar index is also supporting gold. The dollar weakened on Monday (20/3/2023) as traders carefully weighed Swiss banking giant UBS's takeover of Credit Suisse by the dollar index, which measures greenbacks against six other major currencies, it was down 0.42 percent to 103.2828.
Another precious metal, silver for delivery in May, was up 18.40 cents, or 0.82 percent, to close at 22.646 dollars per ounce. Platinum for April delivery added $18.20, or 1.86 percent, to settle at $996.80 per ounce.
Translator: Apep Suhendar
Editor: Guido Merung
COPYRIGHT © BETWEEN 2023
source: www.antaranews.com