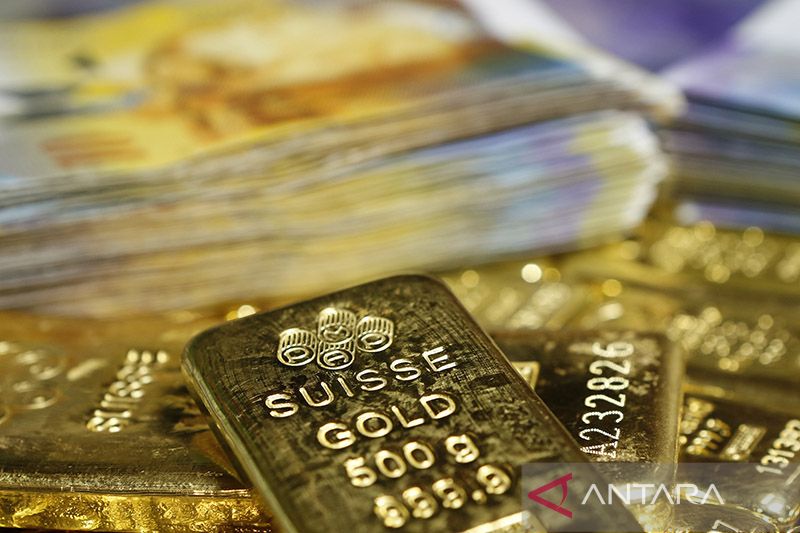 The return of anxiety about banks sent the price of gold sharply higher
Chicago (Rifyu.com) – Gold prices rose sharply to an 11-month high at the end of trading Friday (Saturday morning WIB), rebounding from the previous session's losses as the banking crisis sparked purchases of safe assets or safe havenalso boosted by a lower US dollar.
The most active gold contract for delivery in April on the Comex division of the New York Exchange, jumped $50.50, or 2.63 percent, to close at $1,973.50 an ounce, after trading at a session high of $1,980.60 and the lowest at 1,922.30 US dollars.
Gold futures fell US$8.30, or 0.43 percent, to US$1,923.00 on Thursday (16/3/2023), after climbing US$20.40, or 1.07 percent, to US$1,931.30 on Wednesday ( 15/3/2023), and slipped US$5.60, or 0.29 percent, to US$1,910.90 on Tuesday (14/3/2023).
For the week, April gold soared $106.30, or 5.7 percent.
The global banking crisis continues to weigh on investor sentiment, prompting investors to turn to assets safe haven gold. Gold also benefited from market speculation that the Federal Reserve may end its rate hike cycle after another 25 basis point rate hike at its meeting next week.
Speculation of a slowdown in the pace of Fed rate hikes dampened the US dollar index on Friday (17/3/2023). The dollar index, which measures greenbacks against six other major currencies, it fell 0.67 percent to 103.7153 lending support to gold.
"The return of anxiety about banks is sending gold prices sharply higher," said Ed Moya, an analyst at online trading platform OANDA.
"Many gold investors are looking at near-term macro risks and it seems the expectations will be mostly positive for gold."
Economic data released on Friday (17/3/2023) is increasingly supporting gold. The Federal Reserve reported that US industrial production remained unchanged in February, falling short of market expectations for a 0.2 percent gain.
The preliminary reading of the University of Michigan's consumer sentiment index fell to 63.4 in March from 67 in February, the first time in four months. Economists expect the index to remain unchanged from February.
"Gold's insane rally today shows that more people are turning to gold as a safe haven and store of value as the banking crisis continues to grow and spread," said Dixit, chief technical strategist at SKCharting.
"From now on, as long as the gold price holds above $1,960, we could see a continuation of the momentum towards the psychological barrier of $2,000," he explained.
Another precious metal, silver for delivery in May, was up 77 cents, or 3.55 percent, to close at 22.462 dollars per ounce. Platinum for delivery in April added $1.50, or 0.15 percent, to settle at $978.60 an ounce.
Also read: Gold prices fall as worries over global banking subside
Also read: ANTAM introduces the latest gold product series thematic Eid al-Fitr 2023
Also read: Today, Antam's gold price fell by IDR 1,000 per gram
Translator: Apep Suhendar
Editor: Click Dewanto
COPYRIGHT © BETWEEN 2023
source: www.antaranews.com