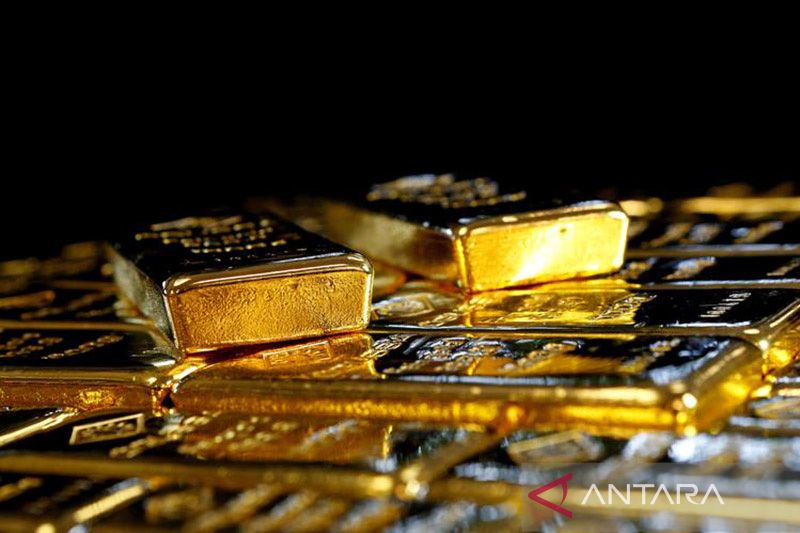 Chicago (Rifyu.com) – Gold prices slumped in late trading Tuesday (Wednesday morning WIB), as investors took profits after gold traded at a recently high technical level and the Federal Reserve is expected to remain tough in its fight against inflation.
The most-active gold contract for April delivery on the Comex division of the New York Exchange, fell $41.70, or 2.10 percent, to close at $1,941.10 an ounce, after trading a session high of $1,988.70 and the lowest at 1,939.60 US dollars.
Gold futures lifted USD 9.30, or 0.47 percent, to USD 1,982.80 on Monday (20/3/2023), after surging USD 50.50, or 2.63 percent, to USD 1,973.50 on Friday ( 17/3/2023), and fell US$8.30, or 0.43 percent, to US$1,923.00 on Thursday (16/3/2023).
The market decline in the last 24 hours suggests the gold metal may have to build up more ground in the lows to make another strong push, said Sunil Kumar Dixit, chief technical strategist at SKCharting.com.
"As prices hold below USD 1968-1978 we can expect a further correction towards the support 1,932-1,928 US dollars," said Dixit.
"Breaking and holding above $1968-1978 is the only way to get gold back on track. bullish to continue the uptrend, initially targeting USD 2,010, followed by USD 2,040 and USD 2,056."
Also testing the mettle of gold buyers will be the actions of the Fed over the next 24 hours. Investors await the outcome of the Federal Open Market Committee (FOMC) meeting, after the closing of trading floors on Wednesday, for signals on the path of interest rates going forward.
The Fed is expected to approve another 25 basis point increase at its March 22 meeting, taking US interest rates to a peak of 5.0 percent, and advocating further hikes that will help catch up with inflation growing at an annualized rate of 6.0 percent in February.
Meanwhile, the National Association of Realtors reported Tuesday (21/3/2023) that sales of existing or existing home in the US jumped 14.5 percent in February from January to a seasonally adjusted annual rate of 4.58 million. This was the strongest pace of sales since September and was higher than the 4.2 million economists had expected.
However, market analysts believe that momentum remains in gold's favour, given increased uncertainty following the weakening of global financial markets.
Another precious metal, silver for delivery in May slipped 22.10 cents, or 0.98 percent, to close at 22.425 dollars per ounce. Platinum for delivery in April slumped $20.10, or 2.02 percent, to settle at $976.70 an ounce.
Also read: Gold breaks 2,000 dollars as global banking worries continue
Also read: Gold jumps 50.50 dollars, banking crisis triggers safe asset purchases
Also read: Today, Antam's gold price fell by IDR 1,000 to IDR 1.084 million per gram
Translator: Apep Suhendar
Editor: Faisal Yunianto
COPYRIGHT © BETWEEN 2023
source: www.antaranews.com