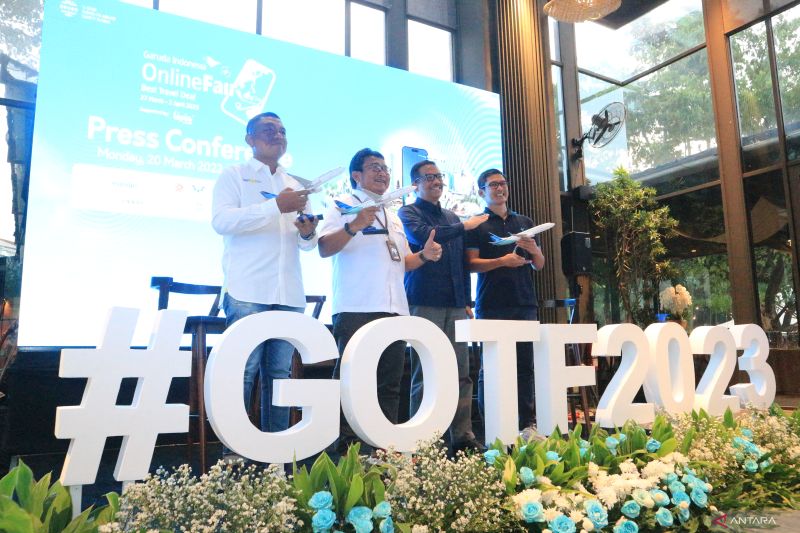 Jakarta (Rifyu.com) – National airline Garuda Indonesia is providing discounted ticket prices through the 2023 Garuda Indonesia Online Travel Fair (GOTF) to boost the tourism sector.
"With lots of holidays such as school holidays, and especially Eid, this is an opportunity that we are trying to accommodate for the community traveling cheaper, this is also Garuda's commitment to provide positive distribution to the Indonesian tourism sector," said Garuda Indonesia Commercial Services Director Ade R. Susardi, at a press conference in Jakarta, Monday (20/3) evening.
Taking place online from 27 March to 2 April 2023, GOTF this year offers discounted flight ticket prices with a travel time span of up to 27 April 2024 with a wide selection of flight routes, both domestic and international. Garuda provides discounts of up to 15 percent for domestic routes and 18 percent for international routes.
Also read: The presence of a "travel fair" has contributed to the recovery of the Parekraf sector
Garuda Indonesia also provides additional discounts of up to IDR 2,500,000 for consumers who transact using credit, debit and Mandiri Livin' cards from Bank Mandiri. In addition, they also provide discount promotions of up to 80 percent for baggage and excess baggage orders during GOTF.
Garuda Indonesia offers offers for GarudaMiles club members, including bonus points milage (mileage) for new members who register during GOTF 2023 and mileage redemption promotions.
In line with Garuda Indonesia, Bank Mandiri as a GOTF 2023 partner is also helping to encourage economic recovery in the tourism and creative economy sectors and provide broader benefits for society, especially business actors in that field.
"We hope that GOTF 2023 will be able to encourage economic recovery in the tourism and creative economy sectors, after the revocation of PPKM in all regions of Indonesia is a moment for the revival of domestic tourism this year," added Bank Mandiri Senior Deputy Executive Director Josephus Triprakoso.
Offers for the GOTF 2023 program can be accessed online through the "Fly Garuda" application, Garuda Indonesia's official website and a number of travel platforms that partner with GOTF 2023.
Also read: GATF 2022 opens offering a variety of destinations at affordable prices
Also read: President Director of Garuda: Determining the price of airplane tickets according to government regulations
Also read: BRI and Citilink Hold Online Travel Fair, Offer 420,000 Flight Tickets and Up to 80% Discount
Reporter: Pamela Sakina
Editor: Natisha Andarningtyas
COPYRIGHT © BETWEEN 2023
source: www.antaranews.com