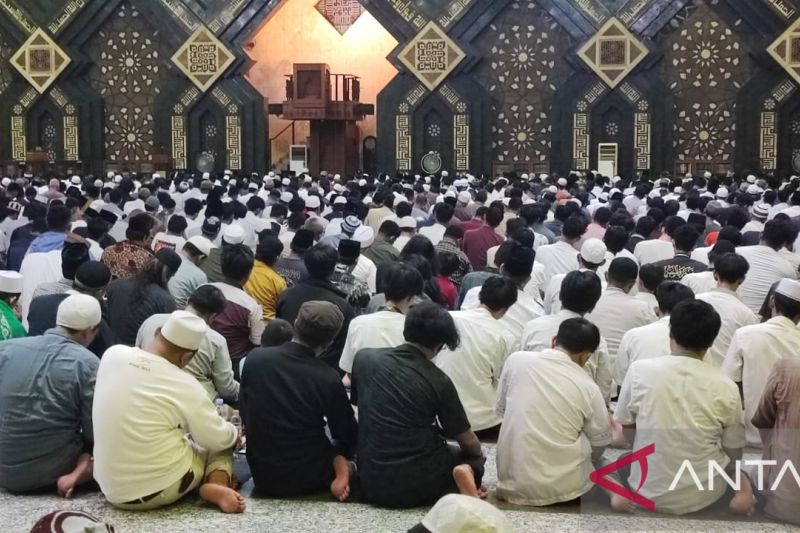 many congregations
Jakarta (Rifyu.com) –
The liveliness of the beginning of Ramadan can be seen at the At-Tin Mosque, Taman Mini Indonesia Indah (TMII), East Jakarta, where thousands of worshipers filled the mosque hall to carry out the first Tarawih Prayer in the month of Ramadan 1444 Hijriah.
Since before the Isha prayer, people have flocked to the At-Tin Mosque to carry out Tarawih prayers in congregation following the government setting 1 Ramadhan to fall on Thursday (23/3).
They come to the mosque using motorized vehicles, both four-wheeled and two-wheeled. The congregation looks solemnly performing the tarawih prayer, both the Ikhwan and the akhwat.
One of the worshipers, Poniran (56), admitted that he deliberately came to the At-Tin Mosque to carry out the congregational tarawih prayer.
"Indeed, at the beginning of every tarawih, I always pray at the At-Tin Mosque. Incidentally, my house is close to the mosque," he said.
He hopes that in this holy month of Ramadan Indonesia can be free from all tests, including dangerous diseases such as COVID-19.
Another congregation, Salsa said, prayed the tarawih in congregation at the At Tin mosque because it was closer to his house.
"There are also many worshipers here," he said.
He hopes that worship in the fasting month can run smoothly and full of blessings.
Also read: Residents enthusiastically participate in the first Tarawih prayer at the Al Azhar Grand Mosque
Also read: Repairing the prayer room in Plumpang so that residents can pray together
Also read: TMII visitors reached 4,400 people during the Nyepi Day holiday
Reporter: Syaiful Hakim
Editor: Alviansyah Pasaribu
COPYRIGHT © BETWEEN 2023
source: www.antaranews.com