Makassar (ANTARA) – A number of young researchers who are members of the Young Landscape Research Incubator (IPML) are voicing climate change adaptation through the Walanae Festival which is being held at the Nipah Mall Makassar, South Sulawesi, from Thursday to Sunday (4/12).
Walanae Festival is the final stage of the Sulsel IPML project. This activity presented initial findings from the field regarding sources of livelihood, land cover, and farming systems, especially in areas along the Walanae River Basin in Bone Regency.
Young Landscape Researcher Fitri Ramdayani Mahmud in Makassar, Thursday, hopes that this activity can raise public awareness of the importance of protecting the environment and add insight into understanding the impacts of climate change.
"This is increasingly being felt, especially for people who use land as a source of livelihood," he said.
Young landscape researchers collect data and information related to land governance practices, food security, and gender equality. They then conveyed their ideas and opinions after the field action and went directly to 12 villages in Bone Regency.
The presence of 38 young landscape researchers in the villages who relayed their interim findings will strengthen collaboration between the government and non-governmental organizations. Like World Agroforestry (ICRAF) Indonesia which is present in South Sulawesi through an action research project Sustainable Landscape for Climate Resilient Livelihoods (Land4Lives) in Indonesia or #landforlife.
The Coordinator of the South Sulawesi Province Land4Lives Project Muhammad Syahrir said that the Walanae Fest activity was part of a series of IPML activities which became a creative medium for young South Sulawesi researchers.
"For about three months participating in IPML activities by taking the location of the Walanae watershed landscape in Bone Regency, this activity is of course a medium in conveying writing results based on observations that have been made on several issues, including climate change, food security and gender equality," he said .
He hopes that the Walanae Festival can convey a message to the public about anxiety in dealing with climate change which has an extraordinary impact. "So that we can all take adaptation and mitigation measures in dealing with climate change," he said.
Chairman of Walanae Festival Muhammad Aliafid added that the theme of this activity comes from the name of the watershed that passes through the villages.
"An important point in this exhibition raises the latest issues of climate change, food security and land-based gender equality," he said.
Not only that, festival activities are also filled with talk show and sharing sessionsphoto exhibition, PML 2022 writing exhibition, and entertainment for visitors.
"It is hoped that this issue will add insight and concern for visitors to agroforestry-based land management," he said.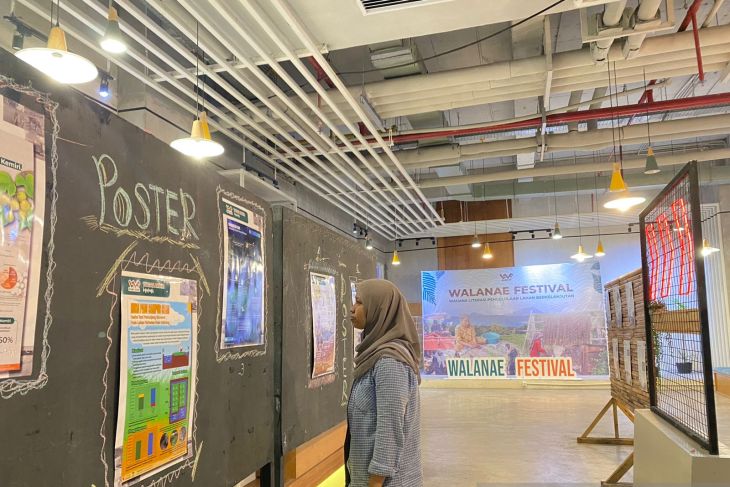 Reporter: Nur Suhra Wardyah
Editor: Didik Kusbiantoro
COPYRIGHT © BETWEEN 2022
source: www.antaranews.com