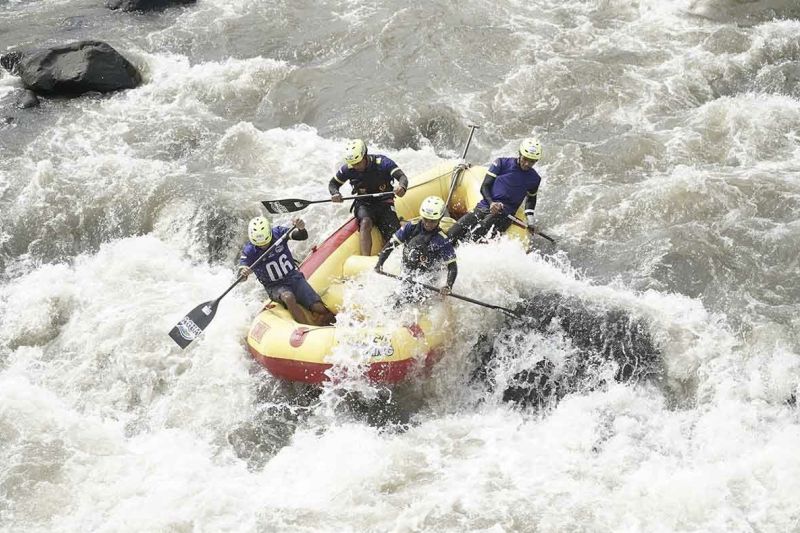 Jakarta (ANTARA) – West Java swept the competition on the first day of the 2022 Rafting National Championship at Sungai Pekalen, Condong, Probolinggo, Thursday, bringing five gold medals in five categories.
In a written statement received in Jakarta, Thursday, West Java won five gold medals from the sprint number for the men's open, women's open, men's junior, women's junior, and women's youth R4 categories.
In the men's open number, West Java beat one of its closest competitors, East Java, with a time difference of 03.73 seconds. East Java finished in second place with a time of 2 minutes 03.83 seconds. While in third place was the DKI Jakarta Team which finished with a time of 2 minutes 03.93 seconds.
West Java's second gold was obtained from the women's open number. Central Java, DIY, Jambi, DKI and East Java have not been able to beat West Java which was strengthened by three athletes who won the 2022 World Rafting Championship in Bosnia Herzegovina, namely Lista Natasya Peniawati (21), Selowati Solihin (21), and Siti Nurranti ( 20).
Also read: The 2022 Rafting National Championship selects athletes for the 2023 World Championships
West Java again won its third gold in the junior men's category. They produced a time of 2 minutes 03.63 seconds or 03.82 seconds faster than the East Java Team (YM), which finished the second fastest.
West Java's fourth gold came from the junior women's number. They produced the fastest time of 2 minutes 20.39 seconds, beating Jambi, North Sumatra and East Java, which finished in second to fourth positions.
West Java's last gold was won by the women's youth team. West Java collected 2 minutes 30.05 seconds, followed by East Java with 2 minutes 59.45 seconds, and Jambi with 4 minutes 33.07 seconds. While the North Sumatra team has DNS (Did Not Start) status.
Also read: PB FAJI holds the Rafting National Championship in preparation for the 2024 Aceh-North Sumatra PON
The coach of the West Java Team, Aceng Supendi, said that the results this time were in line with the target of sweeping all categories in the sprint numbers.
"There are still things that don't go according to what was planned, but they have worked hard to show the quality of both men and women. What isn't right, like understanding the path which in my opinion is difficult. So it takes time to analyze and sometimes this determined by the water level, so that makes it difficult," he said.
The National Rafting National Championship 2022 is being held as a preparation for the Aceh-North Sumatra PON when the first rafting sport will be competed in this four-year multi-event.
Also read: The "GEO-FUN Rafting 2021" rafting event in Merangin is ready to be held
Reporter: Shofi Ayudiana
Editor: Aditya Eko Sigit Wicaksono
COPYRIGHT © BETWEEN 2022
source: www.antaranews.com