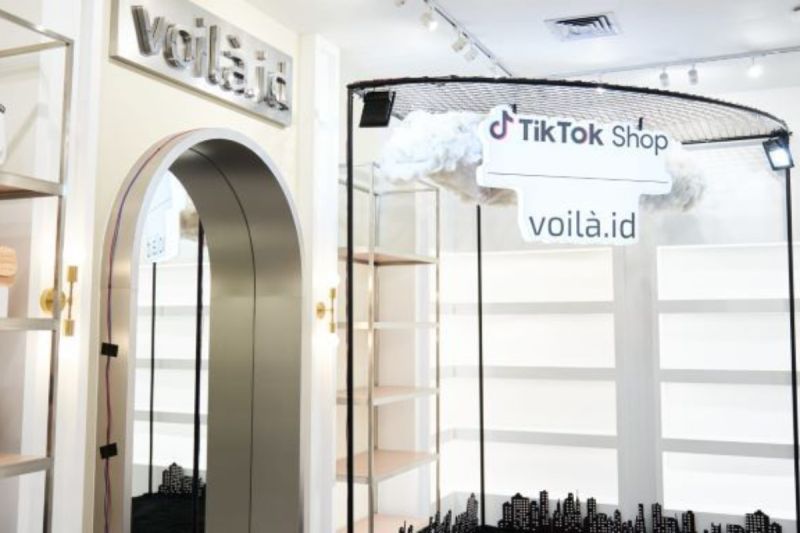 Jakarta (ANTARA) – Voilà.id, retail multibrand which focuses on luxury and authentic products, officially opened an online store at the TikTok Shop on Wednesday (30/11), in a boutique located on Jalan Sultan Iskandar Muda, South Jakarta.
Head of Marketing voilà.id Ivan Adriel, the launch of the online outlet at the TikTok Shop was motivated by the great opportunity for trends shoppertainmentwhich are activities that combine shopping with entertainment through features live streaming.
"We see that Indonesian consumers are very open to adopting live shopping as an alternative shopping activity. In addition to getting entertainment and fashion inspiration, voilà.id customers can more clearly know the authenticity of products on live shopping TikTok Shop," said Ivan through an official statement received by ANTARA in Jakarta, Thursday.
Also read: TikTok Shop introduces a new feature "Shopping Center" in Indonesia
The inauguration of the voilà.id online store at the TikTok Shop was accompanied by a session live shopping titled Valid (voilà.id on TikTok Shop Live with Special Deals) Journey.
With a total duration of 14 hours, live shopping takes place for three days, 28-30 November 2022. As many as six content creators are involved, including Sarah Tumiwa, Bella Clarissa, Wulan Wu, Aurelia Carissa, Fachrul Hadid, and Alegeor.
throughout the session live shopping, the content creators introduce and review the latest and authentic products at voila.id.
15 other content creators such as Cherly Juno to Yenni Kristiani also participated in the session talk show informative filled by voilà.id and TikTok.
They dig deep into how to differentiate authentic products from fake ones, down to simple tips for creating entertaining content, trendingas well as popular.
Trends shop through live streaming indeed growing quite massively in Indonesia. Based on the SEA Ahead Wave 5 survey conducted by IPSOS, 78 percent of Indonesian consumers say they are familiar with shopping live streaming. Then, 71 percent of them have also tried and 56 percent have purchased products through this feature.
Also read: New site for shopping for luxury fashion items
Also read: How TikTok increases equal access for MSMEs to take advantage of the service
Read also: IdEA value of "shoppable live stream" reaches many potential buyers
Preacher: Suci Nurhaliza
Editor: Maria Rosari Dwi Putri
COPYRIGHT © BETWEEN 2022
source: www.antaranews.com