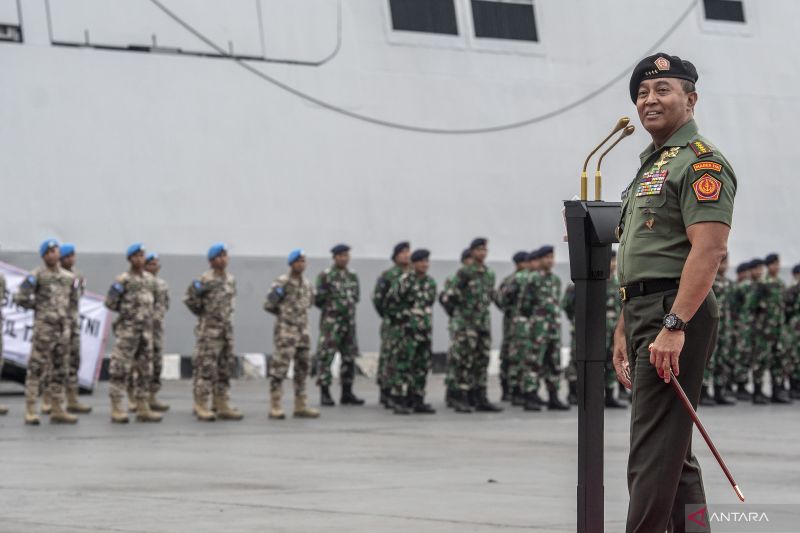 Jakarta (ANTARA) –
TNI Commander General TNI Andika Perkasa confirmed that an officer in the Presidential Security Force (Paspampres) unit with the initials Major Infantry BF was suspected of raping a female soldier in Infantry Division 3/Kostrad Second Lieutenant Caj. (K)GER.
"Oh yes, the law has been processed immediately," General Andika told reporters after releasing the TNI Konga XXVIII-N/UNIFIL Maritime Task Force at Kolinlamil, Tanjung Priok, North Jakarta, Thursday.
Based on the information received, the alleged rape involving the Paspampres officer occurred in Bali in mid-November 2022.
Currently, continued the Commander, Major BF has been named a suspect and detained by the TNI Military Police Detachment. Previously, the suspect BF had undergone investigations in Makassar, South Sulawesi.
The investigation was carried out in Makassar because the rape victim was a soldier serving in the 3rd Infantry Division/Kostrad whose headquarters were in Gowa, South Sulawesi Province.
"So, if I'm not mistaken, the fingerprints will be in Makassar because the victim is part of Division 3/Kostrad, but the Puspom TNI will take over because the perpetrator is Paspampres. That's under the TNI Headquarters, we'll take over, handle it in the TNI," said Andika General.
As well as being exposed to criminal articles, this former Army Chief of Staff (Kasad) confirmed that the officer who committed the rape was also fired from the TNI.
"One, it's a crime, there's an article that we're sure to apply, there's a Criminal Code. The second is that it was committed by fellow TNI extended family. For me, the TNI and Polri extended family are the same, so the additional punishment is dismissal. That's a must," said Andika.
Reporter: Syaiful Hakim
Editor: Didik Kusbiantoro
COPYRIGHT © BETWEEN 2022
source: www.antaranews.com