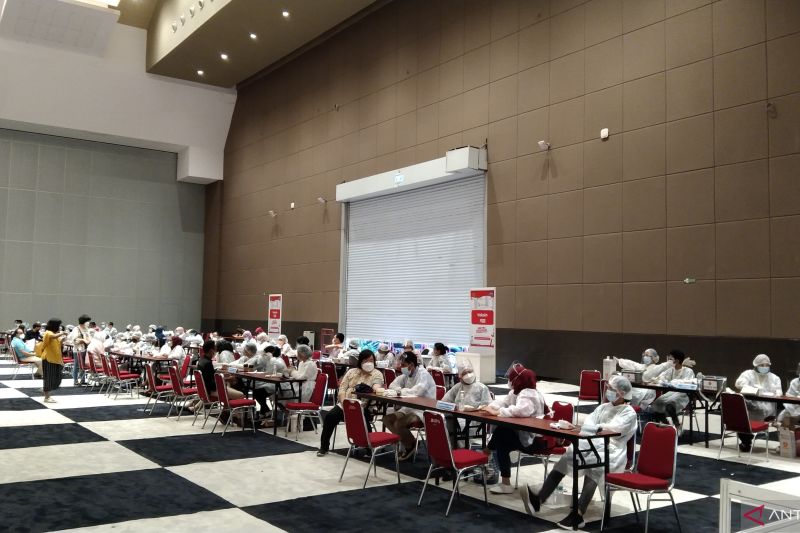 Jakarta (ANTARA) – The COVID-19 Handling Task Force reported that as many as 66,862,019 people had received the third dose of vaccination or experienced a daily addition of 237,450 people on Thursday until 12.00 WIB.
Those who had received the second dose of vaccine on Thursday added 119,410 people, bringing the total to 174,239,124 people since the vaccination program was rolled out. Meanwhile, the Indonesian population that has received the first dose of vaccine has touched 203,715,848 people.
Also read: Daily positive confirmed cases of COVID-19 increased by 4,977 on Thursday
Those who have received the fourth dose of vaccination, especially health workers, have reached 863,582 people or an additional 68,288 people. The government is targeting a vaccination target of 234,666,020 people.
The Ministry of Health stated that the government is focusing on pursuing the coverage of the first booster or third dose of the COVID-19 vaccine for the general public which is still low.
"The plan (of giving the second booster to the general public) will still be there, but frankly we will concentrate first on giving the first booster," said Director General of Disease Prevention and Control (P2P) of the Ministry of Health Maxi Rein Rondonuwu.
Also read: Recipients of the third dose reached 66.40 million people in Indonesia
Responding to the plan to provide a second booster for the general public, Maxi stated that all parties must first focus on increasing the coverage of the first booster, which until now has only reached 38 percent of the target of 50 percent that has been set.
However, he admitted that the government was discussing this after the expansion of the second booster for the elderly was finished.
Currently, the government is trying to speed up the administration of the first booster by mapping areas where vaccination coverage is still low and distributing them with the TNI/Polri.
Also read: Epidemiologist: Capital booster vaccine protects citizens from new subvariants
"So, we focus first (on the first booster), finish it while focusing on the second booster which of course is currently being given to health workers and the elderly as well. immunocompromised," said Maxi.
Reporter: Asep Firmansyah
Editor: Bambang Sutopo Hadi
COPYRIGHT © BETWEEN 2022
source: www.antaranews.com