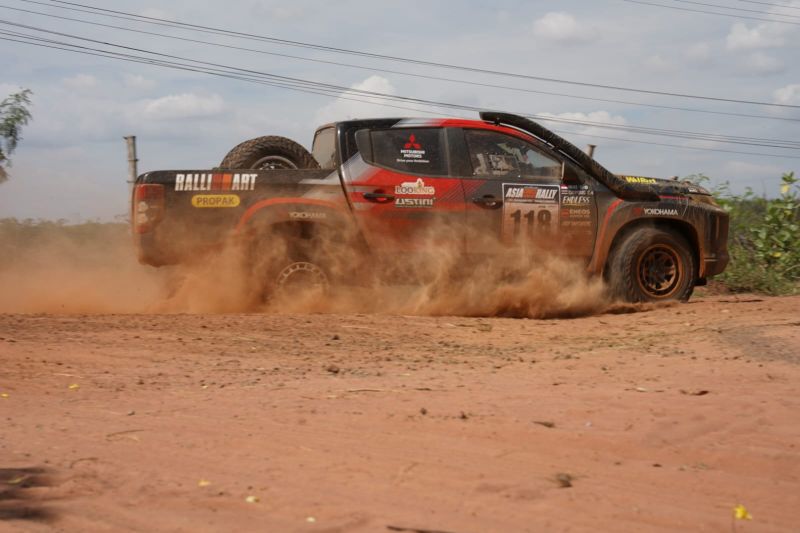 Jakarta (ANTARA) – Indonesian racer Rifat Sungkar praised the toughness of the vehicle used in the 2022 Asia Cross Country Rally (AXCR) in Thailand-Cambodia on November 21-26, namely the Mitsubishi Triton, which made him finish fifth despite experiencing problems at the start of the race.
"On the first day there was a tire burst incident, in my opinion it was just bad luck. But overall, the Mitsubishi Triton Ralliart that I use is tough," said Rifat in his official statement in Jakarta, Thursday.
Rifat, who was partnered with co-driver Chupong Chaiwan, competed quite well, although the preparations were not as long as the other racers. It's just that he has mapped the route or terrain that will be traversed as his "Dakar" in the Asian Region.
"Second, third, fourth and fifth day, I learned what the roads in Thailand are like, and I finally got used to it. The key is that I trust the co-driver, with the terrain that I don't know what it's like, so my trust in him is really high," he said.
Rifat's struggle was also quite impressive. Not only was he able to optimize the performance of the Mitsubishi Triton Ralliart, but he also proved that he was successful in accepting challenges in this extreme racing event.
Also read: Mitsubishi reveals the secret behind the AXCR 2022 victory
Using standard vehicle conditions, Rifat admits that he can keep up with the leading racers. In fact, he was able to chase it twice at kilometers 12 and 25. It's just that, there was an incident with a flat tire, making his record time a loss of six minutes.
At AXCR 2022, the Mitsubishi Triton Ralliart team joined two pairs of drivers. Apart from Rifat Sungkar and Chupong Chaiwan, there is another pair namely Chayapon Yotha-Sakchai Hantrakul who later won the championship which was previously vacuumed due to COVID-19.
Meanwhile, President Director of PT Mitsubishi Motors Krama Yudha Sales Indonesia (MMKSI), Naoya Nakamura, thanked Mitsubishi Motors and the Mitsubishi Ralliart Team for giving Brand Ambassador and Rally Driver, Rifat Sungkar, the opportunity to participate in this international rally.
"We recognize that AXCR is the debut of Mitsubishi Motors returning to Motorsports after many years, and MMKSI is very proud of the result. Rifat performed very well professionally with the support of a qualified car managed by the Ralliart Team," he said.
AXCR 2022 presents 6 Special Stages that cross the 1,700 km route between Thailand and Cambodia with 6 Special Stage (SS) challenges. The toughness of the Mitsubishi Triton is proven by finishing in front through Chayapon with a time of 8 hours 22:42 seconds. Meanwhile, Rifat Sungkar finished fifth with a difference of 17:14 seconds.
Also read: Rifat Sungkar makes double preparations ahead of AXCR 2022 Thailand


Reporter: Bayu Kuncahyo
Editor: Jafar M Sidik
COPYRIGHT © BETWEEN 2022
source: www.antaranews.com