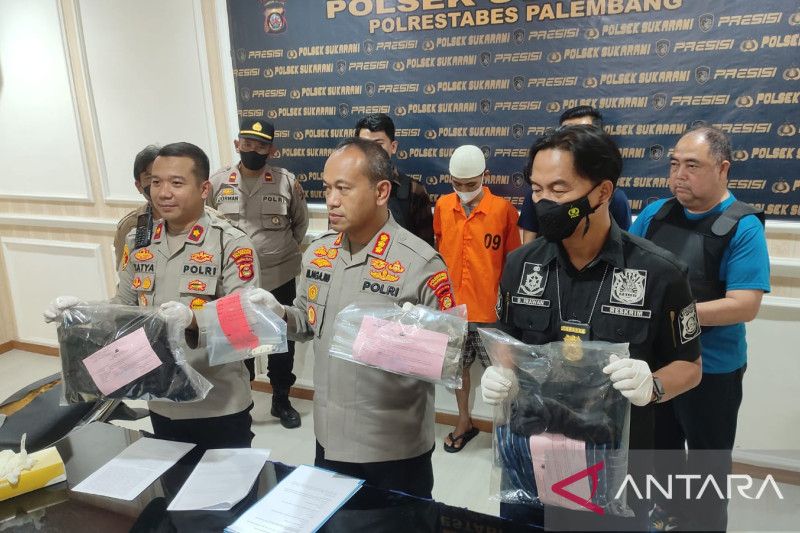 Palembang (ANTARA) – The police have arrested a fugitive in a case of the sadistic murder of a discotheque visitor in Palembang, South Sumatra.
Head of the Palembang Polrestabes, Police Commissioner Mokhamad Ngajib, in Palembang, Thursday, said the suspect was Anton Sujarwo (35), a resident of Alang-alang Lebar District, Palembang.
Also read: Police arrest sadistic robber who killed two South Sumatran Banyuasin residents
He was arrested by personnel from the Sukarame Police Criminal Investigation Unit, Tuesday (29/11) at his home, after eight months of fleeing to Medan, North Sumatra.
"Anton is a suspect in the murder in a commotion at an entertainment venue or disco last March," he said, the suspect currently being detained at the Sukarame Police Office for further investigation.
Also read: The perpetrators of sadistic murders surrender to the South Sumatra Regional Police's Jtanras Sub-Directorate
Ngajib explained that at that time Sujarwo and several of his friends were involved in a commotion with the victim with the initials AS (54) while visiting an entertainment venue on Jalan Soekarno-Hatta.
Based on Sujarwo's confession to investigators, the commotion was sparked by a difference in understanding between the group of suspects and the victim who were drinking alcohol while doing karaoke.
Also read: The perpetrators of the robbery in Kebon Bawang were arrested in Cibitung
Then from the commotion the situation heated up, he continued, because they were all heavily drunk which led to the stabbing of the victim who was a private worker in Palembang.
"After the victim was battered and bruised, this suspect took the victim's life sadistically by drawing a large kitchen knife into the back of the right side of the waist until bleeding occurred which killed the victim," he said.
Also read: The perpetrators of the robbery in Kebon Bawang were arrested in Cibitung
In this incident, the police confiscated evidence, a kitchen knife with a white handle, the results of the post mortem et repertum of the corpse, and the clothes belonging to the victim.
For his actions, Sujarwo. subject to Article 338 of the Criminal Code concerning aggravated murder, the threat of imprisonment for 15 years.​​​​
Also read: Police examine the psychology of the perpetrators of sadistic murders at OKU South Sumatra
Reporter: Muhammad Riezko Bima Elko
Editor: Ade P Marboen
COPYRIGHT © BETWEEN 2022
source: www.antaranews.com