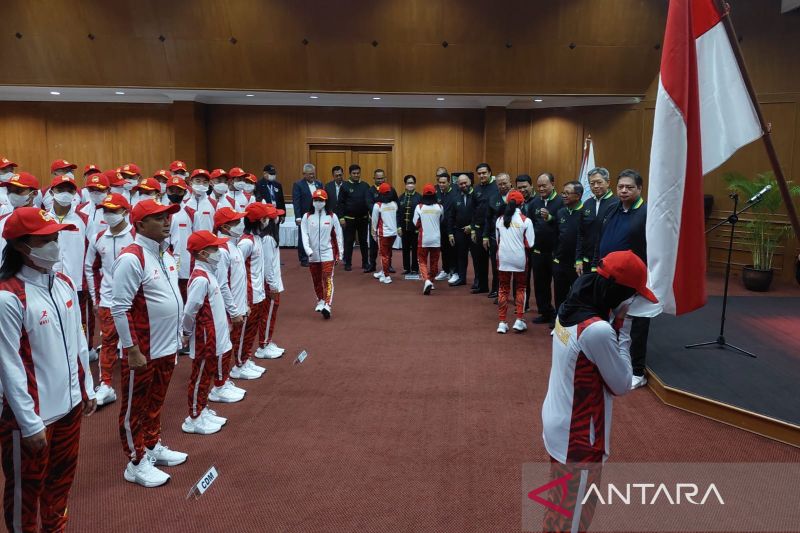 Jakarta (ANTARA) – Chairman of the Indonesian Wushu Executive Board (PB WI) Airlangga Hartanto said the Red and White representatives participating in the 2022 World Wushu Junior Championships (WJWC) at ICE Bumi Serpong Damai Tangerang, Banten, December 5-11 were the first steps for athletes towards 2032 Olympics.
So far, Wushu has not been included in the list of sports competed in the Olympics. However, Airlangga is optimistic that in the 2032 Olympics, this martial art from China can be included in the biggest party in the world of sports.
This opportunity is open considering that wushu has spread in more than 50 countries. What's more, wushu has been registered as a branch to be competed in at the V/2026 Youth Olympics in Dakar, Senegal.
"Those who appear at the World Junior Championships are Indonesia's future athletes and in the next 10 years they will represent Indonesia at the 2032 Olympics," Airlangga said at the Indonesian Wushu Contingent Departure event for the 2022 WJWC in the Widya Chandra area, Jakarta, Thursday evening.
For this reason, Airlangga hopes that the Indonesian wushu athletes who appear at the 2022 WJWC can give their best, as well as achieve the target of winning four gold medals.
Also read: PB WI involves psychologists to improve athletes' mentality ahead of WJWC 2022
"Competing wholeheartedly, with high spirits and confidence for the pride and honor of oneself, family, region, nation and the Indonesian state and always prioritizing sportsmanship to achieve the best achievements," said Airlangga.
Overall, Indonesia will field 23 athletes consisting of 12 athletes for the Taolu number and 11 sanda athletes.
They are the best after PB WI previously carried out various stages of selection.
During the preparation, taolu athletes with six male and female athletes respectively were under the direction of a coach from China, Zhang Yong Sheng assisted by David Hendrawan (DKI Jakarta) and Probo Muljono (East Java).
Meanwhile, 11 athletes consisting of eight men and three women were also raised by Chinese coach Xia Hong assisted by Hermansyah Mongisidi (Central Java), Mohammad Selamat (Central Java), and Hotma Dearma Purba (North Sumatra).
"All athletes are ready and enthusiastic. There are no injuries and all are ready to compete. Our target is three taolu gold and one from sanda," said Chef de Mission Indonesia at WJWC 2022, Doddy Rahadi.
Also read: China confirms sending representatives to the 2022 Junior Wushu World Championships
Also read: Nabila is determined to become a champion at the 2022 Junior Wushu World Championships
Preacher: Muhammad Ramdan
Editor: Teguh Handoko
COPYRIGHT © BETWEEN 2022
source: www.antaranews.com