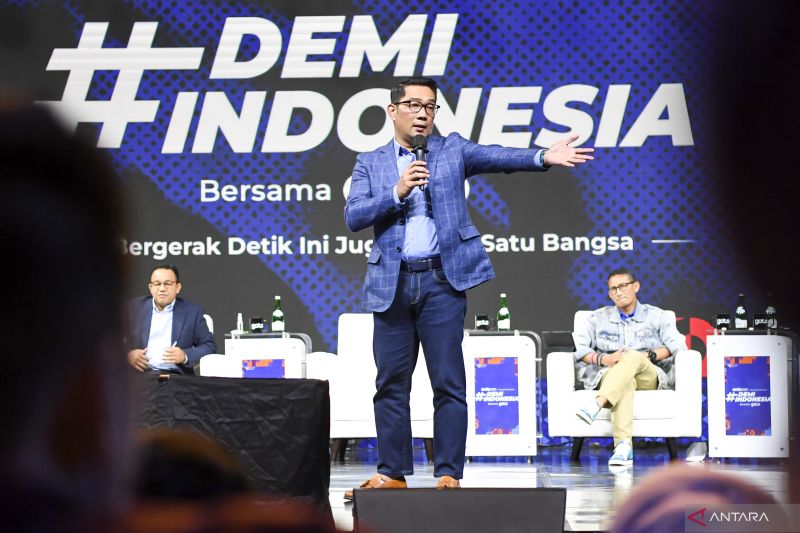 A survey conducted by Indonesian Political Indicator shows that Ridwan Kamil occupies the highest position in the public's choice as a figure who is considered worthy of being a vice-presidential candidate in the 2024 general election.
Executive Director of Indonesian Political Indicators Burhanuddin Muhtadi in a press release in Jakarta, Thursday, said that Ridwan Kamil's name appeared when his agency conducted a simulation with three presidential candidates, namely Ganjar Pranowo, Anies Baswedan and Prabowo Subianto to respondents.
He noted that Anies' supporters chose Ridwan Kamil, followed by Agus Harimurti Yudhoyono (AHY) and Sandiaga Uno as their running mate.
"Mas Anies' base tends to be divided into three names, there are Anies supporters who choose Ridwan Kamil, there are those who choose Pak AHY, there are those who choose Pak Sandi," said Burhanuddin.
Meanwhile, Ganjar Pranowo's supporters are more likely to choose Ridwan Kamil as his companion. Likewise, Prabowo's supporters tend to vote for the Governor of West Java.
In a simulation conducted by Indicators, Ridwan Kamil received 19.7 percent electability, followed by AHY 16.3 percent, Sandiaga Uno 12.8 percent, Erick Thohir 9.6 percent, and Khofifah Indar Parawansa 5.3 percent.
Next, Andika Perkasa 3.3 percent, Puan Maharani 3.1 percent, Tri Rismaharini 2.7 percent, Susi Pudjiastuti 2.2 percent, Mahfud MD 2.0 percent, Airlangga Hartarto 1.6 percent, and Gatot Nurmantyo 1.3 percent.
Meanwhile, in the presidential candidate exchange, Ridwan Kamil's name has also strengthened as a figure under Ganjar, Anies and Prabowo. Ridwan Kamil is considered stable under these three figures.
Burhanuddin added that the survey was conducted from October 30 to November 5 2022. Sampling used the multistage random sampling with a total of 1,220 respondents, margin of error about plus or minus 2.9 percent at the 95 percent confidence level.
Previously, the results of the Charta Politika Indonesia survey put West Java Governor Ridwan Kamil in the top position as a vice presidential candidate with 22.5 percent electability.
Ridwan Kamil's electability on the cawapres exchange was able to overtake the Minister of Tourism and Creative Economy Sandiaga Uno, who is now in second place with 18.3 percent. While in third place is the General Chairperson of the Democratic Party Agus Harimurti Yudhoyono (AHY) with an electability rate of 9 percent.
source: www.antaranews.com