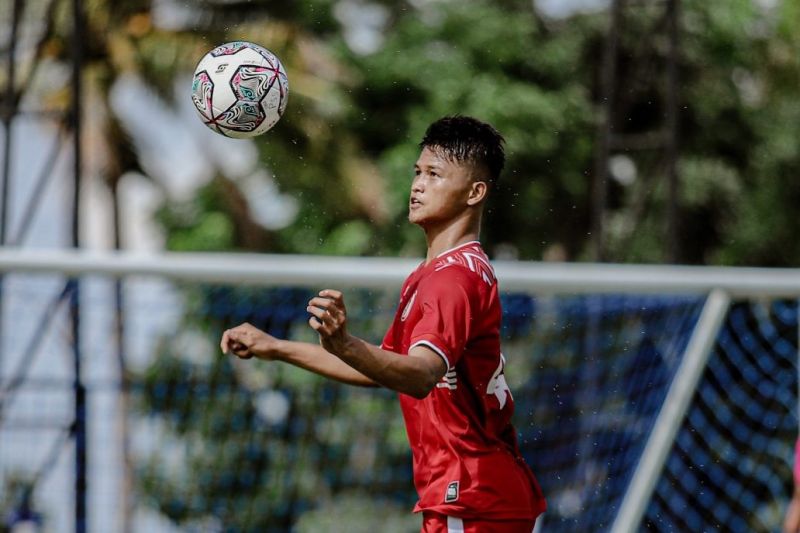 Jakarta (ANTARA) – Striker Hokky Caraka has returned to training with his team, PSS Sleman, after completing a training camp with the Indonesian U-20 National Team in Turkey and Spain.
After returning from the National Team TC, Hokky felt a lot of development that he had experienced, especially his physical endurance had increased compared to before.
"The development that I felt after returning from the training camp was actually quite a lot. But what I felt the most was of course the physique and body, which in my opinion felt better than before," said Hokky, through the club's official website, Thursday.
The young man who was born in Ponjong, Gunung Kidul, Yogyakarta, enthusiastically recounted his activities while attending the training camp with the Indonesian U-20 National Team.
"The biggest aspect that I feel seems to be in the physical part. Because during the training camp it was emphasized the most. Moreover, the adjustment to the weather in Spain and Turkey influenced me," said Hokky.
Also read: PSS coach waits for positive developments in the continuation of League 1

Also read: Hokky Caraka asks PSS fans to support the U-20 National Team TC
"Coach Shin (Shin Tae-yong) advised us to continue and don't forget to practice. Coach emphasized this so that what we got during the training camp would not be lost," he said.
The third child of four siblings is also happy to be back in training with the PSS team, while hoping to be able to add enthusiasm and motivate himself and his colleagues to stay focused on training with uncertain competitive conditions.
"The atmosphere is happy to be able to practice again with the team. However, sad because the league has been postponed again. Hopefully the league will soon be confirmed to be able to start again so that we can all be prepared for the next national team tournaments," he said.
Hokky was motivated to be more confident so he could break into the Super Elang Jawa main team, and scored lots of goals for both PSS and the national team.
Also read: Kim Kurniawan said the PSS squad is ready to fight again in the competition
Reporter: Zuhdiar Laeis
Editor: Teguh Handoko
COPYRIGHT © BETWEEN 2022
source: www.antaranews.com