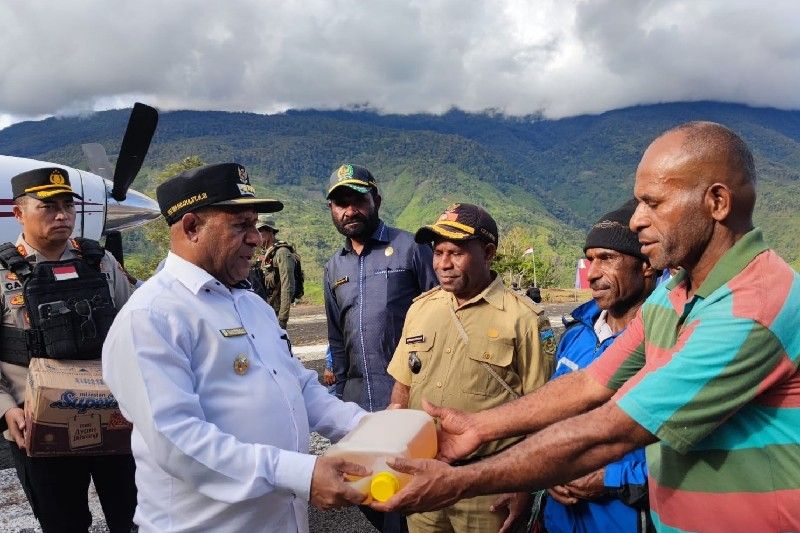 Jayapura (ANTARA) – Commander Korem 172/PWY Brigadier General JO Sembiring appreciates the assistance from the Gunung Bintang Regency Government for refugees who wish to return to their hometown of Kiwirok.
"We appreciate the Pegubin Regional Government's assistance to residents returning to Kiwirok by providing assistance for six months," Sembiring said in Jayapura, Papua Province, Thursday.
He said, currently there are people who have returned to Kiwirok on foot. They are the ones who will help prepare for the return of their families.
According to reports received, only 20 residents who had fled to Oksibil returned on foot starting Tuesday (29/11) and are now in Kiwirok.
"We should be grateful that the community arrived safely, safely and smoothly according to all of our expectations and for the time being will live in the teacher's housing that has been prepared by members of the TNI-Polri waiting for their houses to be repaired," said Sembiring.
Also read: 557 Refugees return to their villages in Kiwirok
The Regent of Gunung Bintang, Yan Spei Bidana, together with Forkopimda, went to Kiwirok on Wednesday (30/11) to see residents who had arrived earlier.
"Thank you to the TNI-Polri who have been guarding the Kiwirok District all this time," said Spei Bidana.
He will convey to the President of the Republic of Indonesia that he can help rebuild the Kiwirok District from all aspects of service facilities such as education and health as well as government offices and community homes.
"Our APBD is limited to developing this area so it requires assistance, both from the central government and the provincial government," said the Regent of the Gunung Bintang (Pegubin).
As a result of the attack that occurred on September 13 2021, a health worker on duty at the Kiwirok Health Center died.

Reporter: Evarukdijati
Editor: Sri Muryono
COPYRIGHT © BETWEEN 2022
source: www.antaranews.com