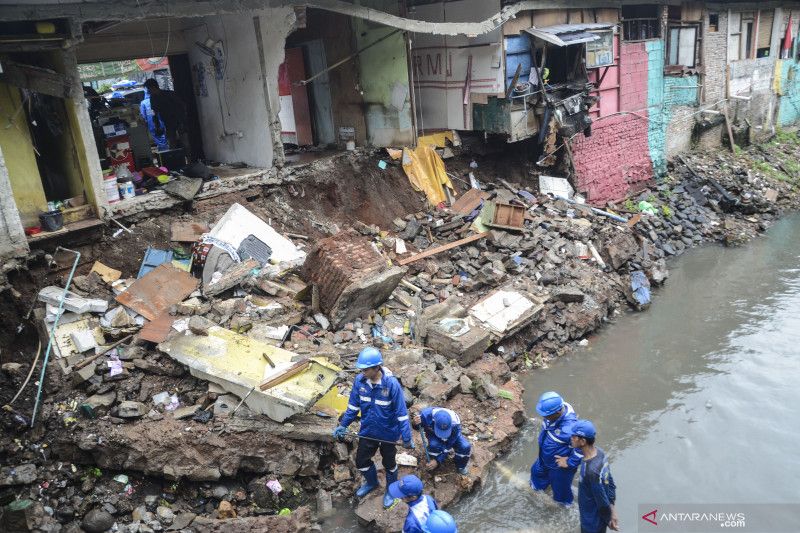 when the rainfall is above normal
Jakarta (ANTARA) – The DKI Jakarta Regional Disaster Management Agency (BPBD) asked the public to be aware of the potential for ground movement at 10 points in South Jakarta and East Jakarta in December 2022.
"To the village head, sub-district head and the community to continue to anticipate the potential for ground movement when rainfall is above normal," said Jakarta BPBD Chief Isnawa Adji in Jakarta, Thursday.
Isnawa explained that the Center for Volcanology and Geological Hazard Mitigation (PVMBG) has mapped several areas in DKI Jakarta Province to be in the middle zone where it is estimated that there will be ground movement.
The 10 points are South Jakarta, covering the sub-districts of Cilandak, Jagakarsa, Kebayoran Baru, Kebayoran Lama, Mampang Prapatan, Pancoran, Pasar Minggu and Pesanggrahan.
Also read: DKI BPBD records 10 areas in South and East Jakarta with potential for ground movement
Furthermore, in East Jakarta, covering the Kramat Jati and Pasar Rebo sub-districts.
In that zone, he said, ground movement could occur if rainfall was above normal, especially in areas bordering river valleys, road cliffs or if slopes were disturbed.
Whereas in the high zone, old soil movements can be active again.
Isnawa explained that the estimates of the potential areas for ground movement to occur were compiled based on the results of overlapping the map of the vulnerability zones for ground movement with the forecast map of monthly rainfall obtained from BMKG.
Also read: Deputy Governor of DKI calls the threat of land movement a common concern
Based on BMKG estimates, the rainy season starts in November and the peak of the rainy season is expected to occur in January-February 2023.
The public is asked to be aware of hydrometeorological disasters including heavy rains, floods, landslides, and strong winds.
In addition, DKI BPBD also urges the public to inform the impact of natural disasters through the Jakarta Kini complaint application (JaKi).
Isnawa asked the public if they encounter an emergency that requires help to immediately contact the Jakarta Siaga 112 Call Center.
Also read: DKI BPBD says there are 10 locations that have the potential to experience ground motion
BPBD DKI has 267 personnel in the rapid reaction team (TRC) to deal with the impact of natural disasters in several areas of the capital city.
Preacher: Dewa Ketut Sudiarta Wiguna
Editor: Edy Sujatmiko
COPYRIGHT © BETWEEN 2022
source: www.antaranews.com