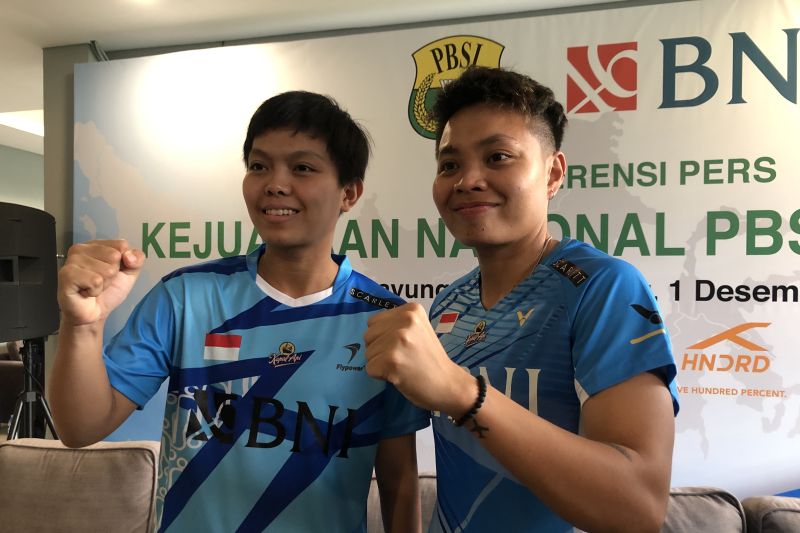 Jakarta (ANTARA) – Indonesia's number one women's doubles pair, Apriyani Rahayu/Siti Fadia Silva Ramadhanti, provided motivation for all participants in the 2022 PBSI National Championship to perform optimally so that the chances of becoming national coaches increase.
"Just play your best in every match, the important thing is to be able to control your emotions and focus," said Fadia when met at the PBSI Cipayung National Training Center, East Jakarta, Thursday.
A total of 628 participants from 26 PBSI provincial administrators and 21 clubs in the country will compete in the national championship which is divided into team and individual events. Specifically for individual winners, they have the right to take part in the national selection (seleknas) to secure 2023 PBSI Pelatnas tickets.
In response to this, the pair which is now ranked 14th in the world hopes that all participants can appear solid in this important agenda which takes place on December 12-17.
Also read: The 2022 PBSI National Championship will be a place to find national athlete seeds
"The National Championship is very important to enter the National Training Center. So those who participate in the National Championship must really take advantage of this extraordinary opportunity to join the National Training Center," said Apri when met on the same occasion.
The 2022 PBSI National Championship offers a total prize of IDR 1.1 billion, with details for the team championship of IDR 800 million, while for the individual numbers it reaches IDR 300 million.
Through the tournament which was previously absent due to the pandemic, PBSI hopes that the participants will not only be tempted by the size of the prizes but also have extra motivation to be able to join the national team lineup at the Cipayung National Pelatnas.
This is related to one of the objectives of the 2022 PBSI National Championship which emphasizes the search for athlete seeds as an effort to regenerate national players, as stated by the Head of the PP PBSI Development and Achievement Division Rionny Mainaky.
Rionny explained, specifically the winner of the 2022 PBSI National Championship individual number has the right to take part in the advanced program, namely the national selection which also takes place at the Cipayung National Pelatnas for three days on December 19-21.
Apart from the national championship winners, other participants also have the opportunity to compete in the national selek armed with rankings and points earned from domestic tournaments.
"We are indeed accelerating the regeneration process which was hampered due to the COVID-19 pandemic. One of them is by looking at the actions of potential young athletes at national championships," said Rionny.
Also read: PBSI is rolling out the national championship again after the vacuum due to the pandemic

Reporter: Roy Rosa Bachtiar
Editor: Teguh Handoko
COPYRIGHT © BETWEEN 2022
source: www.antaranews.com