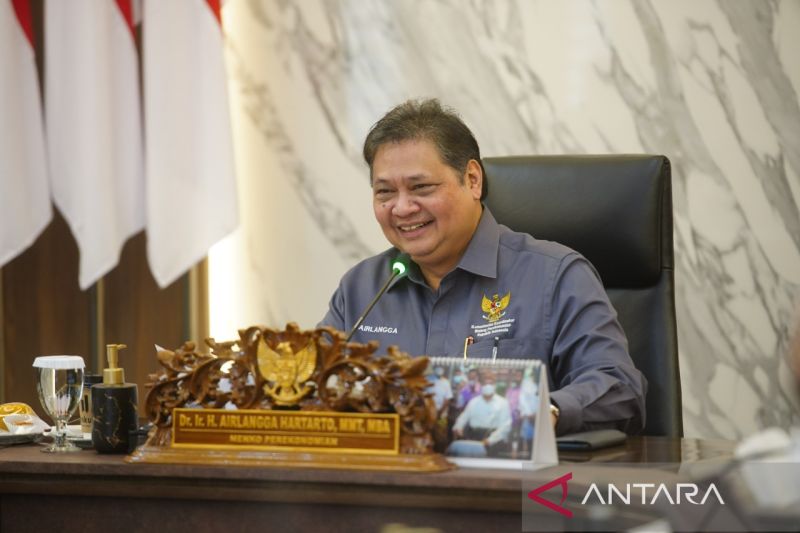 Like the European Union, inflation is currently recorded at 10 percent on an annual basis
Jakarta (ANTARA) – Coordinating Minister for the Economy Airlangga Hartarto said Indonesia's inflation rate was still under control amid the high inflation trend that is still occurring in various countries.
"Like the European Union, inflation is currently recorded at 10 percent on an annual basis (year-on-year/yoy) in November 2022. Then, India and the United States recorded inflation of 6.77 percent (yoy) and 7.7 percent (yoy) respectively," said Airlangga in an official statement in Jakarta, Thursday.
Indonesia's inflationary pressure in November 2022 has eased from the previous month's inflation rate. On an annual basis, November 2022 inflation was recorded at 5.42 percent (yoy) or decreased compared to October 2022 inflation of 5.71 percent (yoy).
He explained that this decline was supported by volatile food price inflation or volatile foods which decreased due to extra efforts to control inflation for all parties amid price inflation regulated by the government or administered prices which is still high. Meanwhile, on a monthly basis, in November, inflation was recorded at 0.09 percent (month-to-month/mtm).
At a time when foreign demand was experiencing a significant decline due to weakening global economic conditions, domestic demand continued to strengthen, so that the performance of the Indonesian Manufacturing Purchasing Managers' Index (PMI) in November 2022 continued to continue its expansionary level for 15 consecutive months at position 50. 3.
This performance further demonstrates the solidity of domestic economic fundamentals because the Manufacturing PMI performance of various countries in the world actually fell to contractionary levels, such as the Eurozone (47.3), Japan (49.0), Germany (46.7) and China (49.0). 2). Indonesia's PMI level is also above several ASEAN countries, such as Malaysia (47.9), Vietnam (47.4), and Myanmar (44.6).
Airlangga said the impact of adjusting the price of fuel oil (BBM) on the transportation sector had subsided, as seen from the transportation sector group which did not contribute to inflation.
Some of the interventions from the local government through the Regional Inflation Control Team (TPID) in an effort to suppress inflation include controlling supply, providing transportation subsidies, market operations, and community movements such as the fast-harvest food planting movement.
Apart from the existing budget, some of these programs are allocated through the mandatory social protection budget of two percent of the general transfer funds (DTU). Based on data from the Ministry of Finance as of 30 November 2022, the realization of compulsory social protection spending was IDR 954.50 billion.
"Although the achievement of post-fuel adjustment inflation remains under control, the central government, regional governments and Bank Indonesia will continue to strengthen synergies to anticipate potential increases in demand and prices during Christmas 2022 and New Year 2023 through various extra efforts to ensure adequate supply and prices. stable," he said.
Apart from that, he continued, optimizing the use of the social protection mandatory budget from the DTU will also continue to be pushed until the end of the year to support Indonesia's inflation rate in 2022 to remain under control.
Also read: Ministry of Finance: November inflation shows stable domestic prices
Also read: BPS: Annual inflation decreased to 5.42 percent in November
Also read: President Jokowi asks regional heads to pay attention to inflation from hour to hour
Reporter: Agatha Olivia Victoria
Editor: Click Dewanto
COPYRIGHT © BETWEEN 2022
source: www.antaranews.com